Little Shop of Horrors
Book and Lyrics by Harold Ashman, Music by Alan Mencken, Based on the Film by Roger Corman
Westside Theatre, New York
–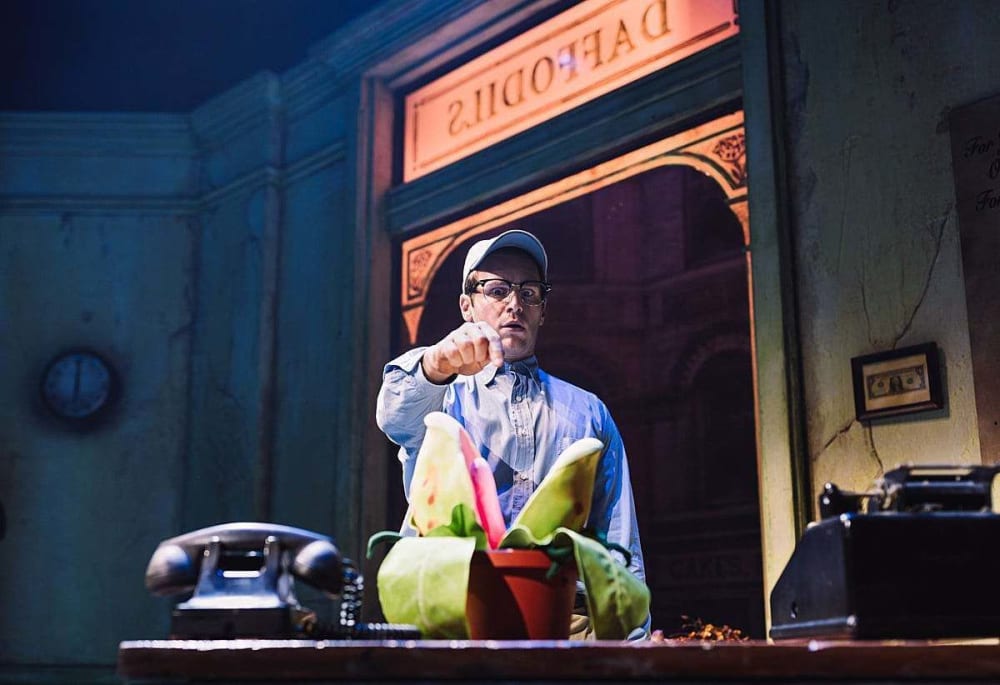 The producers and director Michael Mayer have put a lot of thought (and money) into this spectacular revival, apparently based on the Roger Corman movie, although that was itself spawned by the original off-Broadway and West End productions.
Before considering the efforts of a well-drilled and highly talented cast, it is necessary to make a fuss about the design from Improbable's Julian Crouch, which goes hand-in-hand with some quite terrifying puppetry designed by Nicholas Mahon.
Mushnik's peeling and collapsing florists' shop on Skid Row is impeccably seedy, while the environs look like a muggers' paradise, largely peopled by drunkards and a trio of tuneful urchins named after girl groups of the '60s, Ronette, Crystal and Chiffon, respectively played by Ari Groover, Salome Smith and Joy Woods.
This depressing dystopia is home to a failing cottage industry filled with unhappy people devoid of hope. That is until hapless, hopeless Seymour played by Jonathan Groff, probably best known for a memorable performance in Hamilton, discovers and nurtures a unique botanical specimen.
As fans of the film and earlier incarnations of the stage production will know, Audrey 2, powerfully vocalised by Kingsley Leggs, is greedily carnivorous.
However, he / she is also a commercial success, much to the delight of Tom Alan Robbins's bullying, proprietorial Mushnik.
As the plant begins to take on a life of its own, talking and growing with alacrity, the shop's other employee, Tammy Blanchard taking the role of blowsy Audrey, seems to enjoy punishing herself via a highly unsatisfactory relationship with the versatile Christian Borle as Orin, the most sadistic dentist since Laurence Olivier in Marathon Man.
What starts off as a quaint comedy bordering on farce becomes very dark but extremely funny as insatiable, voracious Audrey 2 literally demands blood.
His new-found fame and fortune projects Seymour into a new, better life, with impediments falling by the wayside, a new girl and media opportunities galore.
However, as with all the best monsters, this plant doesn't know where to stop, to the point where those in the front row must have felt severely threatened by lashing tendrils.
The story may come from the horror genre but is delightfully silly and remains very funny.
It is enhanced by a wonderful score. The title song, which opens the evening, and "Suppertime", a number that takes grand guignol to a new level, would be outstanding in most musicals but "Suddenly, Seymour" is even better, showing off the talents of the whole cast and bringing the house down at the performance under review.
This is a fun night out, with Jonathan Groff and Tammy Blanchard catching the eye, that at only two hours does not outstay its welcome. It will undoubtedly prove popular and should run off-Broadway for years.
Reviewer: Philip Fisher