Little Sure Shot
Lucy Rivers
West Yorkshire Playhouse / the egg, Bath / Theatr Iolo /the Mac, Belfast
Richard Burton Theatre, Royal Welsh College of Music and Drama
–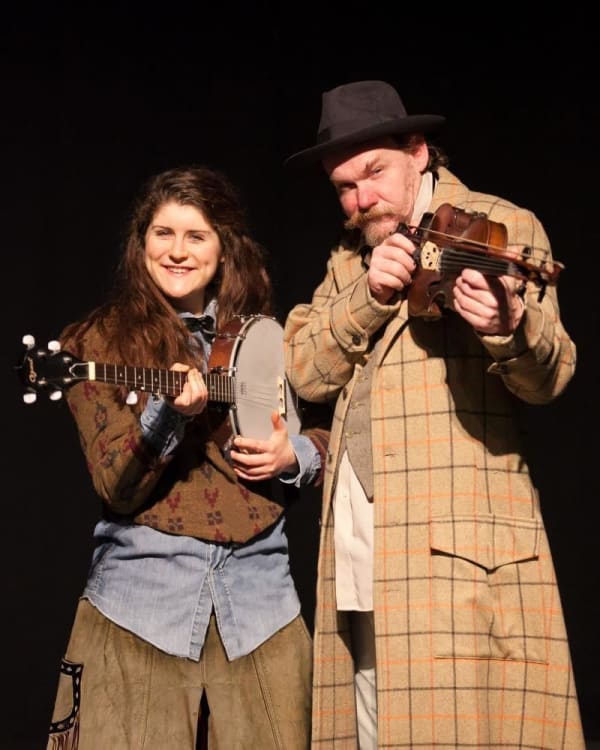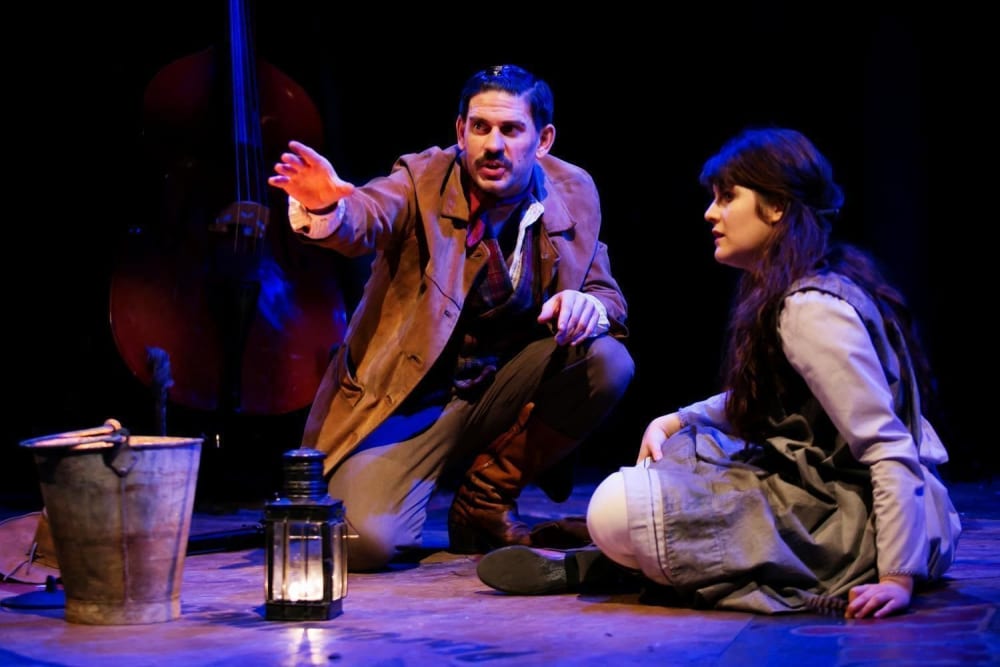 A late change of venue, apparently, and issues with advertising resulted in a shockingly sparse audience for this latest piece from the fertile pen of Lucy Rivers; in a building which was simultaneously hosting the televised Welsh election debate—possibly a less inspirational entertainment.
Aimed at a family audience, Little Sure Shot is an amiable musical canter through the early life of legendary show-person of the Old West, Annie Oakley. Such a show already exists, of course, in the form of the oft-revived Annie Get Your Gun, but Rivers's take on the legend is—if Wikipedia is anything to go by—more historically accurate, and stresses the motivational aspects of her story.
Hayley Grindle's set situates us as spectators in a circus tent with Buffalo Bill Cody and his team of actor-musicians telling the tale of Annie Moses's rise from dirt-poor beginnings to becoming America's first international female star. They re-enact her upbringing in a backwoods Ohio Quaker family, from which she is exiled by poverty, but not before her ill-fated father teaches her how to properly use and respect firearms.
It is her skill with guns which saves her from life of servitude, as first she sells the rabbits and squirrels she kills to a butcher (the animals shot straight through the head, so as to avoid buckshot ruining the rest of the meat); then becomes involved, as act two begins, in Wild West shows. There is much amusement at the corny dog 'n' rifle act via which Annie both gets her start in showbiz and meets the love of her life.
Verity Kirk is highly engaging as the spunky heroine, carrying off both comic and dramatic moments with great charm. The supporting cast also play several musical instruments each, as well as impressing in their multiple roles. Andy Clark scores particularly as the kindly but unfortunate Mr Moses; Andrew Whitehead is a spirited Buffalo Bill, as well as a fiendish housewife; Paksie Vernon provides pathos as Annie's put-upon mother and clever comic timing as the dog; and David Leopold is suitably sincere as Frank Butler, Annie's love interest.
Director Amy Leach's vaudevillian style ensures that events roll along sparkily if not always merrily; but there are moments of stillness, such as Annie's meeting with Chief Sitting Bull, shown in silhouette—it is he who gifts her the titular nickname.
Rivers's songs make no attempt to compete with Irving Berlin's; largely in an authentic country vein, with occasional gospel inflections where appropriate, they are very effective. Her script is funny and fast-moving, foregrounding the message of female empowerment.
The piece ends on a note of triumph, but it could perhaps benefit from a more spectacular concluding moment, especially given the potential for stage trickery inherent in Annie's story. Little Sure Shot is, nevertheless, highly entertaining; one trusts that it will play to much larger crowds in future.
Reviewer: Othniel Smith