The Little Dog Laughed
Douglas Carter Beane
Garrick Theatre
(2010)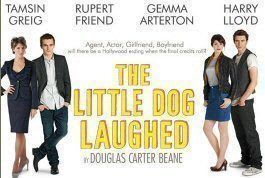 It seems that The Little Dog Laughed must be one of those shows that visitors either love or hate. After all, this lightest of light comedies made it to Broadway and has now crossed the Atlantic. Alternatively, it is possible that Jamie Lloyd's British version has lost whatever made the original a draw.
There is an early suggestion that its writer might wish his baby to be seen as a gender-bending remake of Breakfast at Tiffany's, the movie. However, it lacks Audrey Hepburn, George Peppard and the unique charm injected into Truman Capote's story by director Blake Edwards.
What we are left with is a comedy with a subtlety bypass in which almost every joke is telegraphed and the actors compete for who can shout loudest.
To be fair to Green Wing's Tamsin Greig, a really stage good actress who works ridiculously hard to get laughs here, she wins that contest hands down in the role of a lesbian actors' agent from LA having a few problems with what appears to be her sole client.
Rupert Friend, whose biography suggests that, like Keira Knightley, he is making his stage debut in the West End, is Mitchell. He is a pretty film actor with gay tendencies on the way to superstardom, who decides to come out at just the wrong moment for his career, not to mention the infuriated Diane's 10% in perpetuity.
Mitchell's undoing is Harry Lloyd's boyish, vulnerable Alex, a male tart with a heart of gold and the integrity of a priest. You know - the type that might protest, "I only have paid sex with men to make money and really I'm straight and a veritable angel" and believe it.
To complete the set we have St Trinian's graduate turned Bond Girl, Gemma Arterton as Alex's squeeze, Ellen. She is confused by the goings on and in turn confuses all and sundry, though she is part of a convenient happy ever after ending that will probably appeal most to ardent devotees of Hello magazine.
There are some very sharp lines along the way and Douglas Carter Beane clearly sets out to have some fun at the expense of the movie industry but this is no Speed-the-Plow. Unless you are desperate to see these screen stars in the flesh, this may be one to miss out on.
Reviewer: Philip Fisher