Little Gem
Elaine Murphy
Bush Theatre
(2010)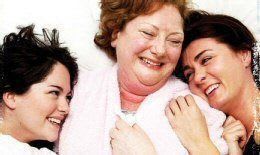 There is always a fear that in the cold light of London an Edinburgh Fringe hit will do a fair impression of the emperor's new clothes.
However, Elaine Murphy's brilliant debut, which, through around 90 minutes, is by turns extremely funny, insightful and heart-warming, seems just as good second time around with a slightly rejigged cast.
That is no surprise since Little Gem has already taken Dublin, Edinburgh and then New York by storm, winning several awards including the coveted Carol Tambor Best of Edinburgh along the way.
Miss Murphy's talent lies in creating three female generations of a working class Dublin family who between them tell us so much about the lives of ordinary women today.
Each of these feisty ladies seems perfectly drawn, both in their naturalistic speech, delivered in a series of monologues, and their inner thoughts and feelings.
The Nevilles are extraordinary women caught at a time of significant change for each of them. Starting at the top, Kay may be a grandmother in her sixties but she can cuss with the best of them and still has the kind of urges that magazines make us believe should be long forgotten by her age. Indeed, her encounters with the doctor and her new friend Kermit should bring a knowing smile to the face of everyone.
Kay's knack of expressing the normally unspoken is uncanny and Anita Reeves' timing impeccable, making the comedy appreciably funnier and enhancing the pathos that is inevitable once we learn that the old one's husband is an invalid at death's door.
A generation down comes Lorraine, now played touchingly by Amelia Crowley, as the originator of the role, Hilda Fay, is about to deliver her own little gem.
Lorraine is a cleaning obsessive who suffers from anxiety attacks. However, she also selflessly helps look after her Dad and worries about young Amber, the kind of lippy teenager who does not care for herself.
The good news is that with support from her employer, a doctor and the family, plus a slice of luck, Lorraine eventually finds a new start and a way to get over a junkie ex who has a habit of turning up at inappropriate moments.
Sarah Greene plays Amber, whose journey is all too predictable, from drunken nights out with lovely, inconstant Paul and her best friend Jo to pregnancy and desertion. The pleasing thing is that the arrival of her baby, Little Gem himself, helps all three women come to terms with some serious life changes and each other.
Little Gem is a really special piece of writing that marks out Elaine Murphy as yet another in the long line of Irish playwrights who have for centuries made a name for themselves on the London stage. Her style will inevitably lead to comparisons with Conor McPherson and she fares well even by such high standards.
On this occasion, the writer receives perfect support from an equally talented team of actors under the sure direction of Paul Meade.
It would be great if Little Gem could find a home in the West End after its time at the Bush ends, as it deserves a wider audience than can cram into the West London theatre during a relatively short run.
Readers of this review should take no chances though, beg steal or borrow a ticket while you can.
Running until 22nd May
Philip also reviewed this production at the 2009 Edinburgh Fringe
Reviewer: Philip Fisher