Little Platoons
Steve Waters
Bush Theatre
(2011)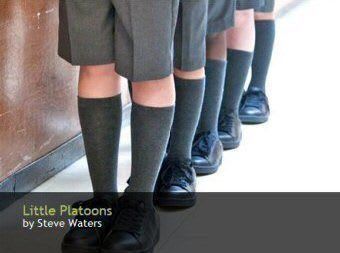 In Little Platoons Steve Waters, who had such a success at this theatre with his double bill The Contingency Plan, harks back to the days of agitprop, when political theatre was at least as much about the politics as the theatre, even if the Big Society did not await us or possibly went by another name. It seems that plays about the failure of The Great British Dream might be back in vogue, thanks to the arrival of a new Government.
The drama takes place in the streets around Shepherd's Bush, as a group of frustrated parents/enthusiasts work together to set up a Free School, egged on by the minions of David Cameron and Michael Gove.
It starts out as a domestic drama, as Martin and Rachel bloodily split up after twenty years of what is now known as partnership. They are motivated lefties, bitterly challenging each other for who can be more right on.
Martin, played by Richard Henders, is at a disadvantage, having deserted Rachel for a wealthy lawyer. This puts an inevitable strain on the couple and their pre-teen son, the confident Otto Farrant playing Sam.
The sensitive Claire Price's Rachel is a teacher at the Mandela (formerly Atlee), a local comprehensive devoid of indigenous pupils. However the couple have such deeply-entrenched political views that they are willing to risk Sam's future by sending him there.
The turning point comes when Rachel discovers a trendy group intent on creating a Free School. She quickly blinds herself to their ulterior motives, power and a chance to get better education for their own kids, allowing herself to be drawn into their team as potential Head, a big step up after two decades of teaching music.
The board are a mismatched bunch. Andrew Woodall and Susannah Harker play married Nick and Lara, middle class in every respect. They contrast with Christopher Simpson's Parvez, the team's token ethnic representative and also a good weapon in the class war, with his impeccable working class credentials.
The first meeting with politicking Polly, a lovely comic creation deliciously played by Joanne Froggatt of Downton Abbey fame, is a classic lesson in the way that influence is utilised by those in power.
She sends away this seemingly hopeless set of applicants with hope. In no time, the school, located in the West 12 Shopping Centre, is practically a reality.
All that remains is an interview to ensure that Concordia Academy will present the kind of image that the current Government requires from one of its flagships. By this stage though, the alliance is fast unravelling over the question of selection policies; and the presence of a trio of hilariously sassy local Mandela pupils enthusiastically played by Holli Dempsey, Mandeep Dhillon and Kerron Darby hardly helps.
The dramatic structure may not be terribly robust but Little Platoons can be very funny and makes some telling political points. It is also one of the first, quite possibly of many, satires to be produced targeting the policies of the LibCons.
There is every chance that this bipartite coalition could prove as stimulating to playwrights as the Tory administration of the early '80s. If that is the case, Steve Waters will have got in at the very start of a fruitful era.
Reviewer: Philip Fisher