Little Shop of Horrors
Book and lyrics by Howard Ashman and music by Alan Menken
Duke of York's
(2007)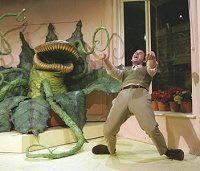 St Martin's Lane is fast becoming the London home of feelgood musical comedy. Avenue Q has completed over a year at the Noel Coward, and now just along the road, the Menier Chocolate Factory's Christmas hit also looks destined for a long stay.
Strangely for a West End transfer, the design team led by David Farley has had to compress their wonderful set since the Duke of York's is significantly narrower than its Fringe predecessor.
This cramps the style of the performers on occasion but ultimately, they and their incredible plant, built by a team of 34 people at Artem, create something both joyous and uplifting.
This sci-fi spoof, based on Roger Corman's movie, starts in the grungy Skid Row florists of intolerant Mr Mushnik (Barry James). He has good reason to be unhappy since the shop has no customers and he has staffing problems.
Paul Keating's Seymour is accident prone and would be soaking up all the profits in breakages, if there were any profits to soak up. His fellow assistant Audrey, played by Two Pints of Lager and a Packet of Crisps star Sheridan Smith, is not so much unlucky as beaten up by her unfriendly boyfriend, Orin.
The future seems dire on a street where the only passers by are bums and a trio of versatile singers named after girl bands of the Sixties.
Just when all seems lost though, shy Seymour begins to nurture a "strange and interesting new plant" that he christens Audrey II and which has the magical ability to draw in customers. This incredible creation also grows like a triffid, on the kind of plant food that is not always easily available, human blood.
By the interval, it has become big enough to accommodate a puppeteer, Andy Heath and its very own actor, the larger-than-life Mike McShane. In the second half, greed overcomes the plant and by the end it is set for world domination.
Intertwined with what is probably not a metaphor for totalitarian dictatorship but you can't be sure, is a simple story of love between a pair of society's outsiders. Like Romeo and Juliet, they eventually make the ultimate sacrifice at the end of a play that ends with fewer survivors than Hamlet.
What keeps Matthew White's 2006/7 Little Shop of Horrors going and should ensure that it always has an enthusiastic audience is an intoxicating mix of energy, comedy and lively music that is rare even in the West End.
Alan Menken's tunes generally support witty lyrics from Howard Ashman and vary widely from happy pop numbers to an excellent blues song Feed Me that is the plant's signature tune, and a towering love-song, Suddenly Seymour, that drove the opening night audience wild.
The production is now rather slicker than it was at the Menier, partly thanks to the performance of the one new kid on Skid Row in the West End, comedian and impressionist Alistair McGowan. He has great fun in a number of quick-change roles but in particular playing oily Orin, the scariest dentist since Laurence Olivier in Marathon Man.
Top marks, though, must go to Sheridan Smith, whose comic timing is never less than perfect; and the very athletic and winning personality Paul Keating as the love of her life who miraculously transforms from downtrodden loser to financial whiz at the expense of a few cut fingers and lost friends.
This kitsch comedy musical has so many laughs and hummable tunes that it is bound to be a big hit. So much so that it might not be wise to bet against it following Sunday in the Park with George, the Menier's Christmas success from the year before, to Broadway.
Philip also reviewed the original production at the Menier Chocolate Factory
Visit our sponsor 1st 4 London Theatre to book tickets for Little Shop of Horrors.
Reviewer: Philip Fisher