The Little Years
John Mighton
Orange Tree Theatre, Richmond
Part of the Orange Tree's Trainee Director Programme
(2004)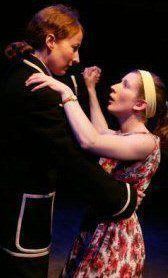 The second play in the Orange Tree's Trainee Director Programme is written by a Canadian mathematician and philosopher, John Mighton. It is directed by Adam Barnard who though only 24, already has a fair directing pedigree behind him, including Stephen Fry's Latin.
The Little Years focuses on the life of Kate, first seen as a 13 year-old prodigy fascinated by the nature of time. She is played by two different actresses. First, Bettrys Jones, whose stature might condemn her to type casting as a bright teenager but as has already been seen in Wait Until Dark, she does it well. She hands over to Cathy Rakoff, who takes on the baton into unworldly and unhappy adulthood.
At school, Kate is an outsider and in Canada in 1950, a girl who wants to study science is laughed out of court by both teachers and mother. She is also compared unfavourably to her unseen brother William, a poet in the making.
Throughout her life, which advances to the age of 60, Kate is unhappy and has mental problems. She is not really designed for marriage despite the efforts of her sister-in-law (played by Genevieve Swallow), a woman entranced not only be her husband but also by Andrew Macbean's Roger, "the Barry Manilow of the painting world".
As Kate ages, so inevitably does her mother, Alice which brings out a wonderful performance from Gillian Axtell. She advances from frosty middle-age through a suffering younger old age to senility. Such is the quality of her performance that it is hard to believe that the same actress is playing all three ages of woman.
Whilst the subject matter may not sound exciting, the play is exceptionally moving and Adam Barnard does a wonderful job with it. He creates sympathy for both Kate and her mother and deals with the time shifts cleverly. At each scene change, the time lines intersect and overlap with the reappearance of the younger ages.
All builds to a moving denouement, as Kate meets her niece, a projection of herself forty years younger. She is won around, rather too sentimentally perhaps, by young Tanya and this gives the play a hopeful ending. The younger woman, played by the same actress for effect, has opportunities for a fulfilled adult life, beginning in the late 1990s, that her aunt never did.
Adam Barnard shows much promise with witty flourishes and the ability both to manipulate his audience's emotions and get laughs. If there is any criticism, it is that he has not yet quite mastered the art of directing in the round, as audience members are far too often graced with lengthy views of actors' backs. However, this is a minor criticism when set against his selection and direction of this wistfully entertaining, short play.
Reviewer: Philip Fisher