Living Spit's Swan Lake
Howard Coggins and Stu Mcloughlin
Living Spit and Theatre Orchard
Factory Theatre, Tobacco Factory Theatres, Bristol
–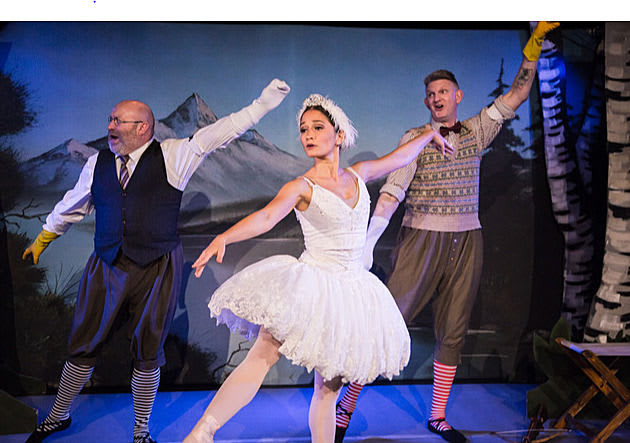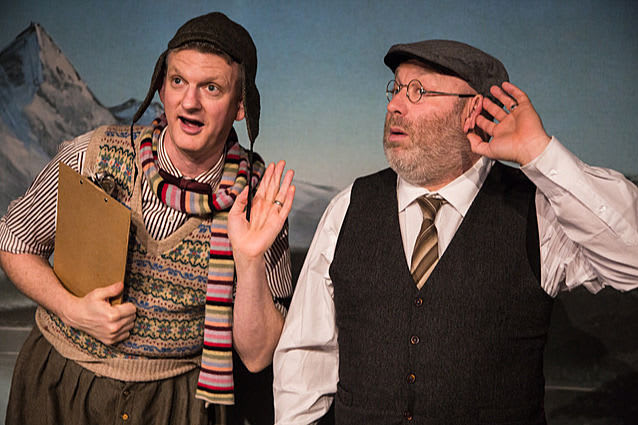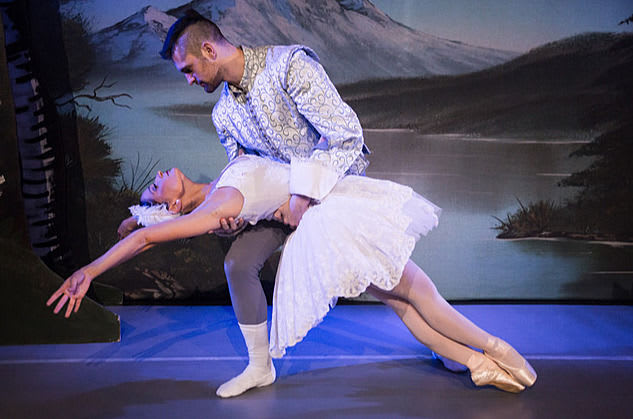 No sooner had the dust settled on their condensed version of Homer's Odyssey than Living Spit duo Howard Coggins and Stu Mcloughlin return to the Tobacco Factory with their own unique take on Tchaikovsky's ballet Swan Lake. Having collaborated for the Greek epic in a threesome with songstress Kate Dimbleby, they now see fit to introduce not one but two professional dancers to this family-friendly retelling. Who knows, for their next production, they may decide to cram in a whole chorus.
Living Spit's Swan Lake comes with a particular ornithological bias, framed by the Wetland Avian Council (WAC for short—they do love an acronym) convening on Swan Lake for their regular meeting. The members of WAC are the various birds living on the lake, represented by Coggins and Mcloughlin in breeches and flippers, and the audience divided into different species—ticking the Arts Council application diversity and audience participation boxes, as Coggins crows with satisfaction.
High on the agenda is the mystery surrounding the name of Swan Lake, given that no swans actually live there. Cue dancers Josh Hutchby and Francisca Mendo to re-enact selected pas de deux from the story, as the star-crossed lovers Prince Siegfried and Odette. Their stunning movement on the intimate stage is exquisitely choreographed by Holly Noble with particularly impressive pointe work from Mendo. It's all the more elegant when seen so close up, and for its juxtaposition with Coggins and Mcloughlin's panto-style buffoonery in the other roles—from the villainous magician Von Rothbart to Siegfried's domineering Mum and his laddish best mate who presents him with a crossbow for his birthday.
Narrating in rhyme, the pair prove themselves once again to be masters of invention, clever wordplay and general silliness, and their improvised chorus work is a guffaw-inducing highlight in the closing moments of both acts. Their delight in questioning the convoluted logic of the ballet's storyline, accepted without a raised eyebrow in classical productions, is a droll and accessible primer for newcomers young and old getting to grips with the work and its alternative sad or happy endings—as long as nobody takes the concept of anti-drowning pills too seriously.
However, on occasion, what lies beneath the frivolity does feel perilously two-dimensional; the princesses introduced as potential brides at the ball, for example, are only differentiated by a series of wigs and all too readily dispatched. The bird species divisions established in the audience at the top of the show could be carried further. And the inclusion of an interval in a production with a running time of a little over an hour feels intrusive and unnecessary.
That said, Living Spit has a strong community-based ethos, and is always warmly—in this instance rapturously—received by Bristol audiences. This production is jointly presented with North Somerset performing arts charity Theatre Orchard, with whom they also manage the Theatre Shop in their hometown of Clevedon. It's easy to imagine their Swan Lake being even more of a micro-ballet cackle of contrasting classical-meets-farcical styling, when it transfers billing to the Tobacco Factory's smaller Spielman Theatre for the final (already sold out) days of this run.
Reviewer: Claire Hayes