The Living Unknown Soldier
Simple8, based on Le Soldat Inconnu Vivant by Jean-Yves le Naour
Arcola Theatre Studio 1
(2008)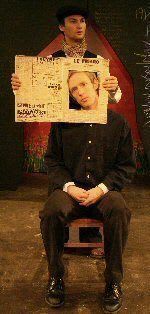 The Living Unknown Soldier is probably the capital's first ecologically sustainable show since not only does the Arcola's newly installed fuel cell power the café-bar and the show, but all aspects of the production such as set, marketing and company travel have been considered in relation their environmental impact.
However, the play itself is not about sustainability; the story concerns itself with an amnesiac soldier found wandering a station platform in 1918 France, and those who come to the asylum to which he is committed to claim him as the son, father or husband who went to war but never returned from the trenches.
The amnesiac soldier thereby takes on the various names of the lost family members: the very person who has no identity symbolising anyone and everyone. This theme of identity is reinforced by the device of sharing the role of the solider between the different members of the cast, which also serves to highlight the play's principal concern that "the line between memory and imagination is thin".
The Living Unknown Soldier opens with an introduction that is out of keeping with the rest of the piece but functions (somewhat unnecessarily) to set the scene and to start to question the veracity of our own memories - "our memories make us who we are " we are told, whilst at the same time it is said that "memory is an act of the imagination".
The cast work supremely well together changing and exchanging roles seamlessly each giving their unknown solider particular characteristics.
Stephanie Brittain is moving as the abused wife who comes to claim her husband in spite of his past reprehensible behaviour and Tony Guilfoyle is excellent as the dedicated doctor who commits years of his life to finding the soldier's real family. Tom Mison is terrific as the ambitious and almost mischievous journalist more interested, at least initially, in how the soldier's story can advance his career.
The pared set reflects the economical approach of director Sebastian Armesto whose solicitous touch brings out the humour in what could have been an entirely morose tale and leaves moments of poignancy to speak for themselves.
This is an untaxing yet thought-provoking piece - dare I say that the memory of some powerful images still lingers ...
"The Living Unknown Soldier" runs until 15th March 2008 at 8pm with matinees at 3pm on Wednesdays except 5th March. The running time is approximately 95 minutes with no interval.
Reviewer: Sandra Giorgetti