Locked down. Locked in. But living.
Choreography Jordan James Bridge, Daniel de Andrade, Gary Clarke
Studio Wayne McGregor, Northern Ballet, Gary Clarke Company
Lawrence Batley Theatre, Huddersfield
–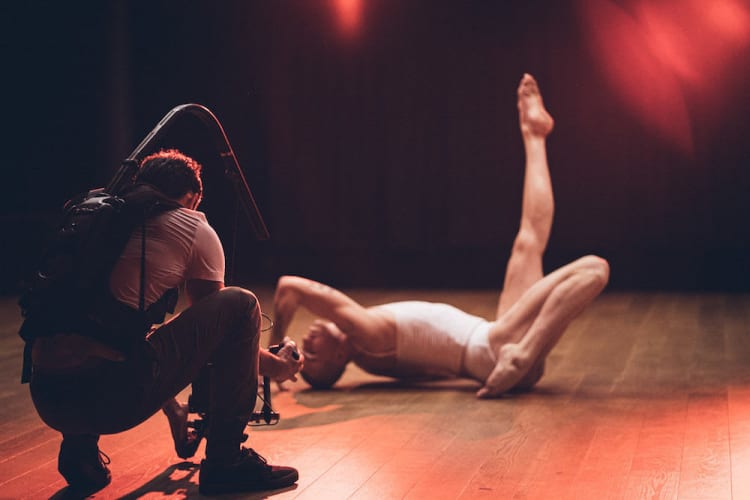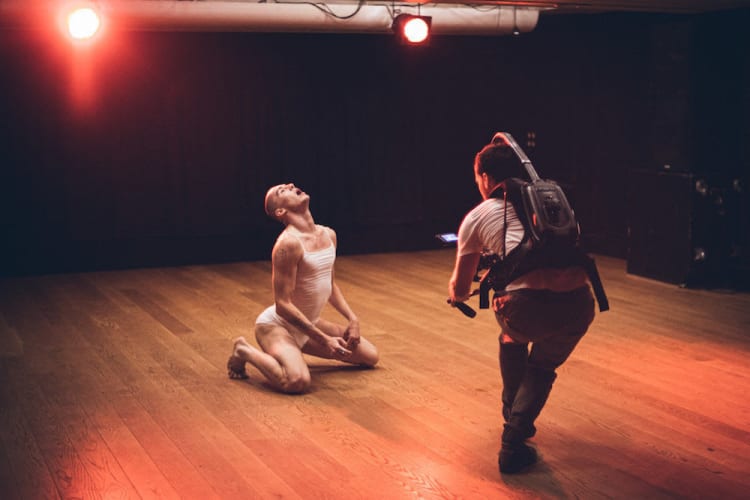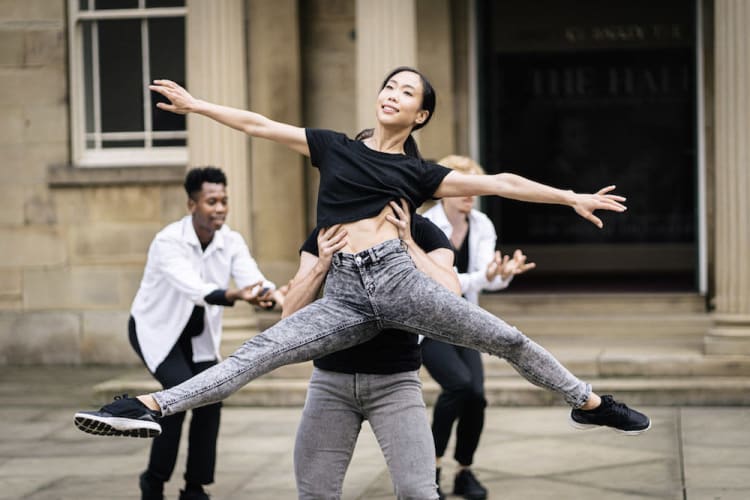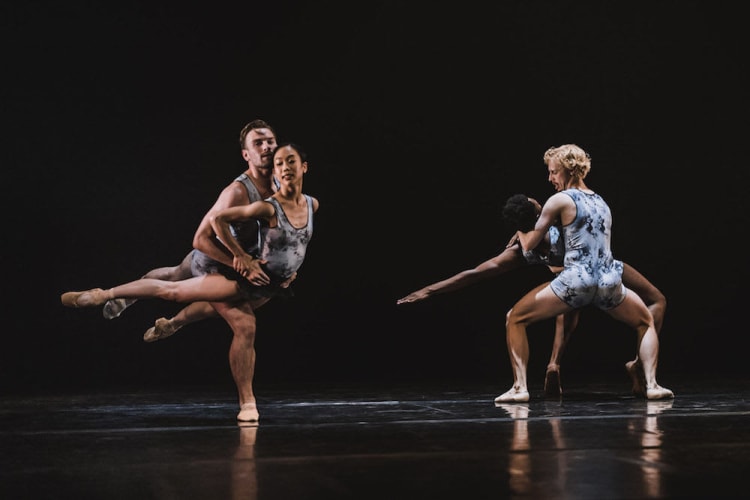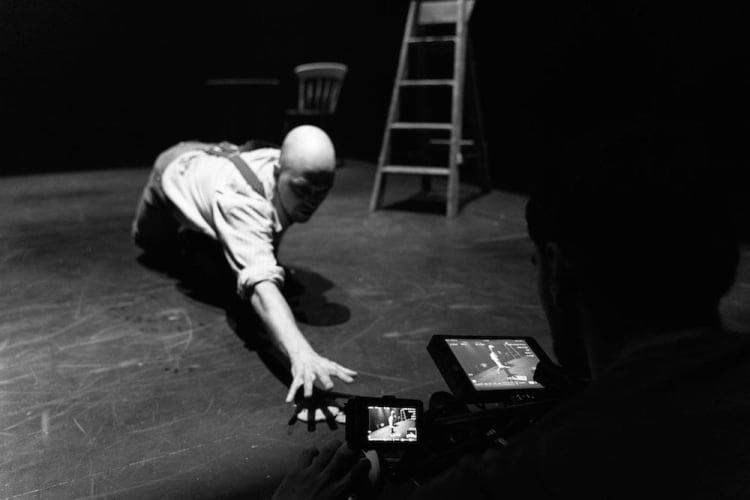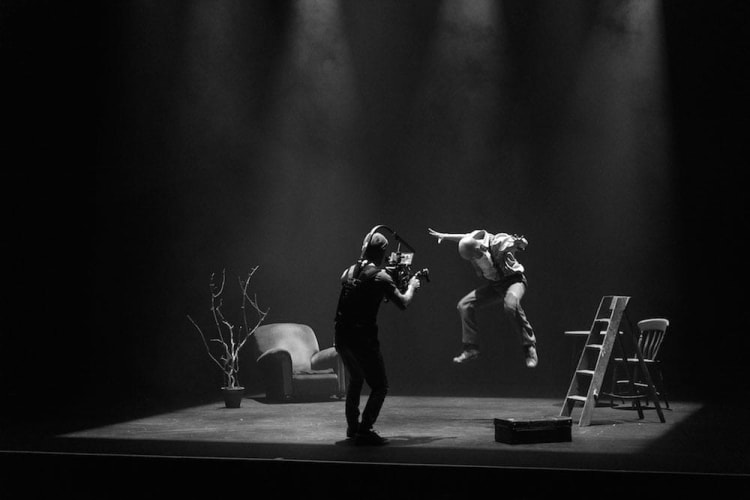 In May, three dance companies (Studio Wayne McGregor, Northern Ballet and Gary Clarke Company) were approached to make dance during, and reflecting on, lockdown, which resulted in three ingenious, cleverly filmed, digital productions of varying length, totalling about an hour.
Choreography by Jordan James Bridge (dancer, Studio Wayne McGregor), Daniel de Andrade (Artistic Associate, Northern Ballet) and Gary Clarke (Artistic Director, Gary Clarke Company) is as diverse as the companies themselves. Every inch of Lawrence Batley Theatre, inside and out, seems to have been used, but it is the filmmakers and designers who, of necessity, are as much to the fore as the dancers and dance makers.
Locked down is a two-part, ten-minute solo (dancer Izzac Carroll), choreographed and directed by Bridge, who brings his experience of dancing with Michael Clark and Wayne McGregor to his creation. Music, "It Is Cold In The Water" by Sophie (Flume & Eprom Remix) and "Klass" by Tom Ashbrook, judders with layers of sound and reverb, supple and staccato, accentuating similar moves.
Close-ups of the body and face, intimate, personal, introspective, locked down indoors and in his brain, finding some relief outside in the courtyard, where this solitary alien in white blends with the pale stone. He leaps, runs and jumps—simple moves that speak of release.
Locked in from Northern Ballet has four dancers (Sean Bates, Sara Chun, Mlindi Kulashe and Matthew Topliss) but filming technique triples their number. To music by Ólafur Arnolds ("Near Light and Brim"), Arvo Pärt ("Frates") and A Filetta ("Infine and Chant") choreographer Andrade fills the courtyard by having the four dancers ghosted by two sets of themselves. Such trickery reminds me of Fred Astaire and Gene Kelly movies, though Locked in is hardly in a similar jolly vein.
They move through the foyer, corridors and staircases of the theatre, slide down banisters, and into the empty theatre. Now in leotards, out of street clothes, they are reborn, Bates in particular like a butterfly shedding his chrysalis. There are duets, with Chun on pointes, and a coming together in a quartet.
Dancers' solos fade into each other, and suddenly the courtyard dance joins this indoor dance in a layered split screen: a memory of what was and what is to come, perhaps? They escape out of the stage windows, just like the naughty Sylphide. Monochrome film till now, suddenly the stage is filled with red petals falling upwards. Film producer, editor and colour grader David Bewick, cameraman Pedro Labanca and lighting designer Abbi Fearnley must take much of the credit for this escapist twenty minutes.
But living escapes down the rabbit hole in silent movie style with captions and music by Nigel Clarke, "Dial H for Hitchcock", played by Grimethorpe Colliery Band. It's more Samuel Beckett and Lewis Carroll than Hitchcock, though.
Gavin Coward, an anxious soul on a Beckettian set—bare tree in a pot, small table and chair, battered armchair, step ladders and an open suitcase—contemplates his situation under a caption "In the Event of Past, Present and Future… Where Are You Now?"
He falls into the suitcase and meets White Rabbit and a ticking clock. "The Distortion Begins"… you get the idea, we are led by the Carroll 'Alice' concept all round the theatre, into its bowels and rafters, up and down the circular stairs, by the ever-elusive Rabbit. Coward staggers back on to the stage set, does an energetic workout, counts his coins in his savings jar, runs back down to the lower depths, breathes on a window, the better to write a message, and claps.
He plays at being a soldier, a clown, runs up to the attic, finds a suitcase, dances with a white dress, the room spins, sirens wail, races back to the stage, and "A Blind Fury" turns everything red. "Reverse, Start Again" and it does, the film rewinds very fast to the very beginning. Life on repeat... we all know how that feels.
But the White Rabbit is in the auditorium pointing the way out to the lone dancer. Out into a land of colour, green door, railings, gate and freedom from lockdown. The Rabbit waves goodbye… yes, it is a mad mad world at present. "The End… of an Era"—we can only hope.
Gary Clarke's narrative choreography is vastly entertaining, but he must share the collective honours with Bewick and Labanca (again), their visual effects and colour enhance the droll humour. Yes, there is colour at the end of this shaky film stock silent era style black and white film, red again, life-affirming blood red.
Reviewer: Vera Liber