Lombardi
Eric Simonson, based on When Pride Still Mattered : A Life of Vince Lombardi by David Maraniss
Circle in the Square, New York
(2011)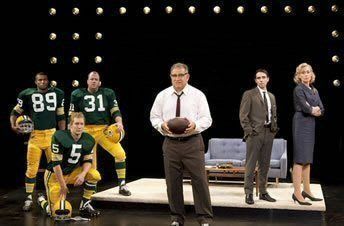 Vince Lombardi is an American sporting legend. British readers might like to think of Bill Shankley then change the accent and sport.
So significant was his contribution to (American) Football that the trophy for the winner of the annual Super Bowl bears his name.
Eric Simonson has set out to portray the fully rounded character of Lombardi on stage and, through a combination of good material and excellent writing technique, achieves his goal.
The methodology is not new. Having provided a little background for those that need it, a young journalist, who turns out to be a geeky sporting anorak played by the likeable Keith Nobbs, is foisted on the family for a flashback-filled week in the successful year of 1965.
Michael McCormick's brief is to find out what makes Lombardi tick and then tell that to his magazine audience. In achieving this, he does the same for the theatre audience but also quickly becomes a surrogate son to both Lombardis.
Vince Lombardi is a tough guy with a gift for aphorism and a well-hidden soft centre. Before he joined the Green Bay Packers in 1958 they had enjoyed, if that is the word, twelve consecutive losing seasons, an impressive streak by anyone's standards.
At that point, our man was a college football coach who was considering giving it up to become a banker and he would have been very good at that.
However, supported by his long-suffering, hard drinking (house)wife Marie, played with feeling by Ugly Betty star Judith Light, he leapt at the chance to turn a bunch of no hopers into champions. Within a couple of years of arriving in the backwoods of Wisconsin, they had got to the stage where second place was a measure of failure rather than aspiration.
Despite wielding a rosary, Lombardi was a great shouter, but as the trio of players that represent the squad explain, if he didn't bawl you out, he didn't respect you. What it did to his health doesn't bear thinking about. By this time, he had cancer of the colon and died early at 57.
What Simonson and director Thomas Kail (who is adept at staging theatre in the round) achieve is a believable portrait of an extraordinary ordinary guy.
By the end, you feel as if you knew Vince Lombardi and also Marie, which is some achievement. The real plaudits though must go to Dad from The Wonder Years, Dan Lauria in the title role. His portrayal is pitch perfect, switching between bombast and relatively sincere apology seamlessly and conveying the inner will that made his character a successful leader of tough men.
While there are some clichés in the writing and the story follows predictable lines, sporting dramas are usually uplifting if overly sentimental and Lombardi is no exception. Every sports fan should try it.
Realistically, this drama is only likely to attract sports fans but that is a pity, since the story of a man who drives others on to exceed personal limitations in the pursuit of perfection should be relevant to us all.
As a novelty, the producers of this play include not only a selection of the usual suspects but also The National Football League. Who knows, if they get a taste for it, they might be behind the next Lloyd Webber or Disney musical?
Reviewer: Philip Fisher