London, Burning
Anthony Quinn
Little, Brown
Released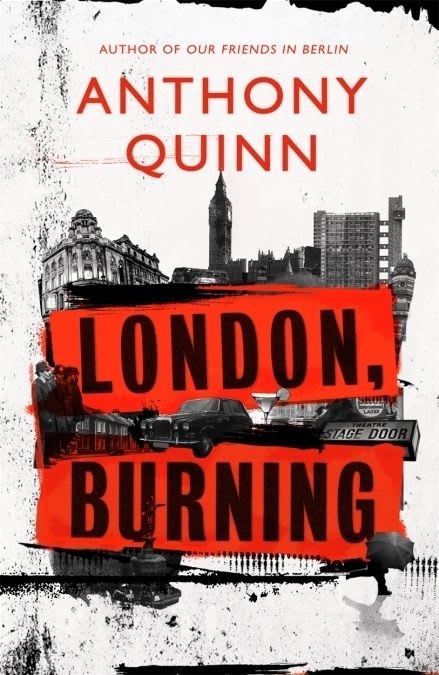 In his earlier novel, Curtain Call, Anthony Quinn demonstrated great interest in and impressive knowledge of the London Theatre scene just before the Second World War. While London, Burning ranges more widely, one significant thread follows the activities of a theatre director enjoying his pomp in the 1970s, when this novel is set.
Quinn's style is to start a number of hares running, slowly but inexorably bringing them together in plots that are always satisfying and often thrilling. In this case, we follow the trail of Vicky, a young police officer who finds herself embroiled in a series of juicy cases but also an uncomfortable web of corruption.
Then there is Callum, a bookish lecturer from Newry in Northern Ireland with an accent that instantly inflames prejudice at a time when the IRA was launching a war on the United Kingdom with explosive activity in London.
The linchpin who eventually connects each of the themes is a Fleet Street broadsheet journalist named Hannah. She is good at her job but also attractive enough to ensure that every man in the novel makes a play for the desirable hack. That includes theatre director Freddie, the talented grandee in charge of the fictional National Music Hall.
The name may include something of an in-joke, since anyone with a reasonable knowledge of theatre history of the period will instantly recognise a portrait that feels incredibly close to the future Sir Peter Hall. As readers will discover, Freddie is not only a self-promoting workaholic but also a superb theatre director and compulsive adulterer.
He is not the only real-life character mildly fictionalised to ramp up the drama. The shadow Home Secretary who hopes to take over as Northern Ireland minister in a future government led by Margaret Thatcher, if only she can win the election, has much in common with the late Airey Neave, once an escapee hero of Colditz and subsequently a strong-willed, unforgiving Tory politician.
Having introduced these memorable characters and many more, Anthony Quinn weaves a plot that features Freddie trying to balance a precarious love life and stressful career as his 50th birthday approaches, Hannah and Vicky pairing up to do detective work after a pair of IRA bomb outrages and some political inside knowledge as strikes and then the 1979 general election threaten to wreck Freddie's birthday party, not to mention the career of James Callaghan.
As always, this author has written an addictive page turner, while at the same time showing off his literary credentials and a great knowledge of the stage, not to mention the colourful history of one of its most highly regarded and larger-than-life characters.
Reviewer: Philip Fisher