London's West End Creating the Pleasure District, 1800-1914
Rohan McWilliam
Oxford University Press
Released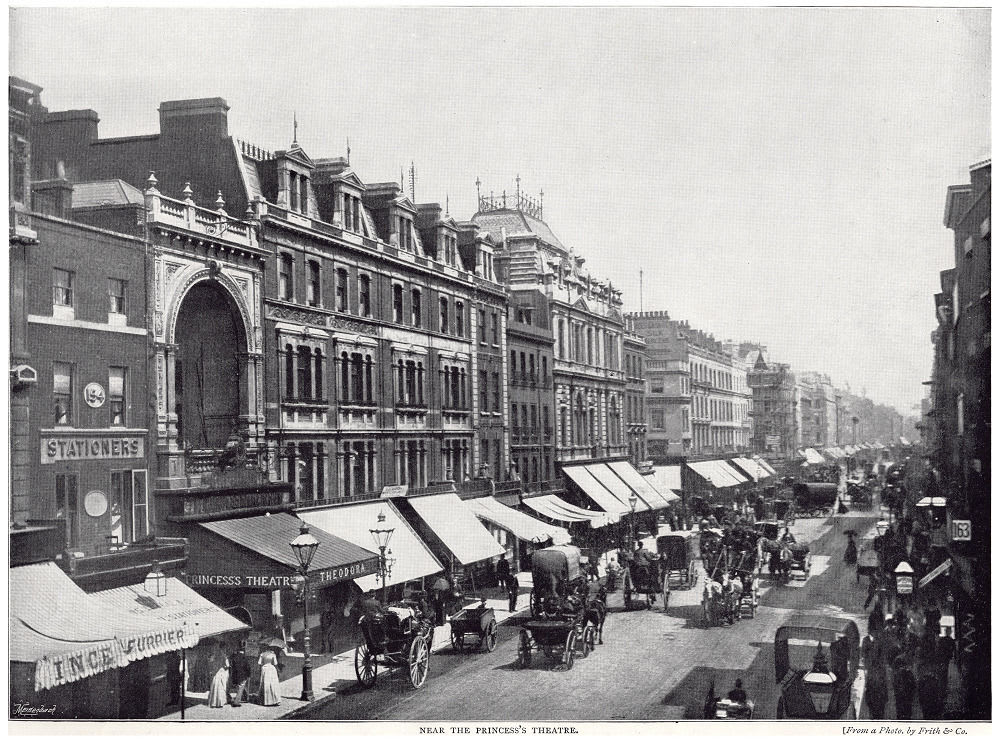 Whilst there are any number of histories of theatre and of London, Rohan McWilliam's latest book is the first to put together a modern history of the elements that characterise the area today.
He examines entertainment, retail and hospitality from 1800 to 1914, showing how they evolved symbiotically to create the Pleasure District of the title, being influenced by and influencing cultural norms and styles across the country, the Empire and beyond.
I am a notoriously slow reader, unused to magnum opi written in such academic terms and weighty with detailed research, so it is a book I had to approach on my own terms, as a lover of theatre who is generally uninterested in shopping or hospitality, and with an unapologetic theatre bias and love of London.
It is the city I have always called home with McWilliam's West End an area I claim as a stamping ground, and if my attentiveness to the text occasionally waivered I was continually re-engaged by references to places and things I know or remember, such as the Swan and Edgar department store at Piccadilly Circus (1812 to 1982).
McWilliam's history is written both in broad strokes and fine detail.
It starts with a London that is arguably the largest city in Europe where culture is emerging from the confines of the court whilst remaining the preserve of a privileged elite, and keeping close by to form McWilliam's West End – a quarter defined by borders at Bond Street, Oxford Street, Strand and contemporary Kingsway.
The very roads of this area were themselves divided along class lines and were to change irrevocably in the name of progress and commerce. The gentrification of its day made space for ever more halls of consumerism which fuelled and fed an outbreak of middle-class aspirational domesticity and lifestyle.
A little over a century from the start, the capital's abundant, culture-hungry population eventually sustained what McWilliam describes as "an elaborate entertainment quarter". This was a pleasure district (as distinct from pleasure gardens, the epitome of 18th century nightlife) that was home to more than forty theatres and music venues and over thirty cinemas, not to mention restaurants, galleries and shops.
McWilliam puts a scale against the momentous change that was taking place during the time span of the book.
The West End was becoming a magnet, accessible via a bourgeoning transport system whose legacy we live with today, and such was its importance that it laid the foundation of Britain's global reputation in theatre and birthed the ancestors of today's food and hotel chains, and the giant shopping centres designed as much for aspiration as for function.
McWilliam provides a lens through which we observe a swelling, lively and cosmopolitan place, as well as divisive one, that yielded dissent almost as much as escapism.
This is apparent in the growing workforce of shop girls and waiters whose appalling working conditions gave rise to demonstrations that abutted those of the emerging suffrage movements, and were often centred on Trafalgar Square which took on its present-day form in the 1840s.
Alongside retail and hospitality, theatre also changed almost beyond recognition.
At the start of the period under McWilliam's scrutiny, theatres largely served the aristocracy who attended as much to be seen conspicuously flaunting their fashion and fortune in a candlelit auditorium.
Society ladies were to be found in the boxes which were better arranged for observing each other than the stage, whilst the men might be seen strutting around the pit. This was where, thanks to the cheaper prices, the less affluent classes were allowed in and the West End's ubiquitous prostitutes could be found plying their trade.
Society's poorest were excluded not just by price but by dress code and got their unique and often scurrilous entertainment in the area's drinking holes which did not come under the watchful eye of the Lord Chamberlain.
McWilliam's narrative takes us through theatre's transformation to an experience we might have today: audiences made up of a wider public, respectful of the creative process and attentive to stars on stage in an electrically lit auditorium, now dimmed for the performance.
The transition was not straightforward and I found the detail in these sections compelling: the burning down and rebuilding of theatres, the rising "buying power" of women and the middle classes, the elitist, haphazard booking system, the Old Price riots, the emergence of music hall, the introduction of counterfoiled tickets, the reconfiguration of auditoria.
By the end, the book had won me over. It filled out my knowledge, adding colour and precision to it and, like the best theatre, it has made me see things differently. I can pay it no greater compliment than to say that when I reached the last page I felt like clapping.
London's West End Creating the Pleasure District, 1800-1914 was published in September by Oxford University Press. Rohan McWilliam is Professor of Modern British History at Anglia Ruskin University, Cambridge and a Fellow of the Royal Historical Society.
Reviewer: Sandra Giorgetti