London Wall
John Van Druten
Two's Company
Finborough Theatre, London
–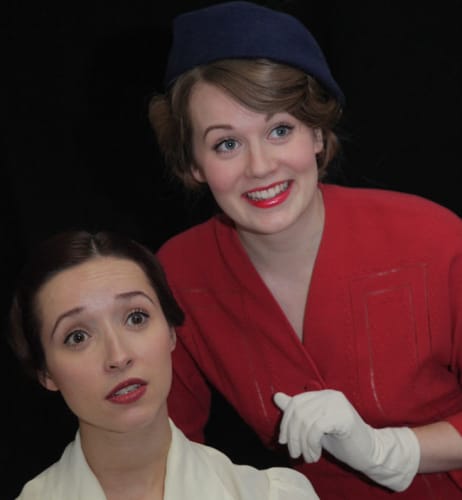 John Van Druten's name may not immediately be familiar but it ought to be. He wrote I am a Camera, the play that is now much better known as the source for the musical Cabaret.
He is clearly a class act judging by this delightful romantic comedy from 1931, lovingly revived by Trisha Thorns for Two's Company.
It might be very sentimental and the values all come from another age but London Wall will undoubtedly have audiences rolling with laughter and shedding the odd tear too.
This production aspires to perfection, starting with yet another astonishing set from Alex Marker that really could be transported straight from the front office of a solicitor's firm c. 1931—until it magically transforms into the slightly frightening senior partner's domain.
The premises of Messrs Walker Windermere and Co seem to be used equally for legal endeavours and love making in the traditional sense. As old man Walker, played with due severity by David Whitworth, says quoting his even older father "work's work but with women around it never can be".
The staff here prove the truth of that adage on a daily basis. Junior lawyer Mr Brewer, Alex Robertson is a beast, who cannot restrain his romantic tendencies. So bad is this charmer's addiction to lechery that he even gives the gauche office boy a run for his money, Jake Davies taking a role played by John Mills first time around.
There are plenty of candidates for a little harmless flirting but two come to the fore.
Alix Dunmore is Miss Janus (Blanche), a kind and extremely efficient senior secretary tied up in a long engagement that is going nowhere but has potentially left her ruined. She also doubles as an unofficial agony aunt for the new girl Miss Milligan (Pat) a sweet-natured 19-year-old, played by Maia Alexander.
This beautiful young thing has a shy admirer, Timothy O'Hara's Hec, who has big ideas but no money. He is unsure of his own wishes and causes untold confusion as a result.
The legal business is tasted through the saucy divorce proceedings between Maverick and Maverick but embodied far better in the firm's dealings with the batty but sometimes surprisingly wise Miss Willesden, given humorous vigour by Marty Cruikshank whether indulging in the daily updating of her will or suing yet another ne'er do well.
Van Druten works these people around expertly, giving a pretty good feel for the dynamics of a pre-war law office but at the same time getting under the skins of his more significant characters and telling a rollicking good story along the way.
Miss Thorns has put together a really strong cast, with both Alix Dunmore and particularly Maia Alexander names to watch out for in future. Both have that rare gift of conveying deep feeling on stage and making it seem entirely natural.
Periodically, the Finborough puts on plays that are so good they deserve a much wider audience than is ever possible at their friendly but compact home. It would be great for all concerned if London Wall could move on to a smaller West End theatre some time soon.
Reviewer: Philip Fisher