Looking Through Glass
Francois Pandolfo and the company
The Other Room/difficultstage
The Other Room at Porter's, Cardiff
–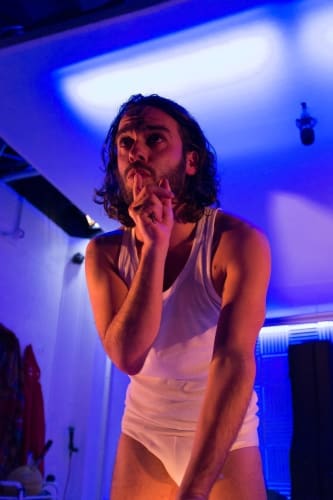 This year's ostensibly festive offering at The Other Room is a sequel to last year's Alix In Wundergarten, once more brought to us by difficultstage. Again, it's a tribute, of sorts, to the legacy of Lewis Carroll; again, the comedy is somewhat bleak.
The Other Room has made something of a speciality of miraculously transforming the performance space. This time, Carl Davies's beautiful set has us observing events in an immaculately rendered glass box of a BBC radio drama studio, complete with video monitors and a hidden recording booth. We cannot fail to notice that the studio contains a smaller transparent cubicle in which an underwear-clad young man appears to have been locked.
The conceit of the show is that we, the audience, are applicants for an assistant producer's role and have been invited to observe a recording of a piece inspired by Alice Through The Looking-Glass. Our hostess is alpha female Alison Tittenson, who was merely referred to in the previous show. Here, she is brought to intimidating life by Nicola Reynolds, complete with imperious RP accent and severe blonde bob.
Amongst other BBC secrets, we learn that Francois Pandolfo's Fabian is being publicly humiliated as punishment for some infraction committed the previous day. We also meet the other cast members, each of whom has issues of their own.
Even as the audience troop in, we encounter the wheelchair-bound Gwenith being helped to access the studio by a couple of pre-selected audience members (who later find themselves part of the production). Gwenith, played by Eiry Hughes, is an earnest Welsh-speaker and loving mother; and it eventually transpires that the mysterious illness which has struck her down is but one of her issues.
The final cast-member is ebullient latecomer Ivor—Robert Bowman, in an illuminated festive jumper. The fact that he is Alison's gay ex-husband is the root of much of the trouble which follows.
As the recording progresses, there is a great deal of comic strangeness. The script, by Pandolfo and the company, inspires many audience titters, most of them guilty.
Last year's show relied for much of its humour on insider knowledge of the idiosyncrasies of the acting profession; Looking Through Glass is more general in its references, focussing on sexual dysfunction of various kinds (with the video screens showing helpfully illuminating imagery).
The cast, under the direction of Matthew Blake, are equally adept with broad audience-pleasing comedy and private despair. Callum Hymers briefly joins them on a couple of occasions as an actor auditoning elsewhere in the building; his boyish exuberance shines a stark light on the main protagonists' angst.
The production is a technical tour-de-force, courtesy of Zakk Hein, Katy Morison and Sam Jones (video, lighting and sound design, respectively) and stage manager Bethan Dawson manages to skilfully coordinate these resources as well as having a pivotal speaking role.
The video-monitors hint throughout that bad things may well happen. Suffice it to say, the day's recording does not go as planned.
As with the previous show, there are numerous surreal digressions (a spoof panel show, song and dance interludes etc), which amuse, whilst highlighting the characters' various personal crises. One wonders though, if a more trenchant, but still darkly funny piece, might emerge if some of them were dispensed with.
In any case, Looking Through Glass is a sinister, bizarre, blackly comedic alternative to the more wholesome entertainments on offer over the festive period. Recommended for slightly warped, broad-minded fun-lovers. And don't bring the kids.
Reviewer: Othniel Smith