Loop Station
Devised by Ontroerend Goed
Ontroerend Goed
The Lyric, Theatre Royal Plymouth
–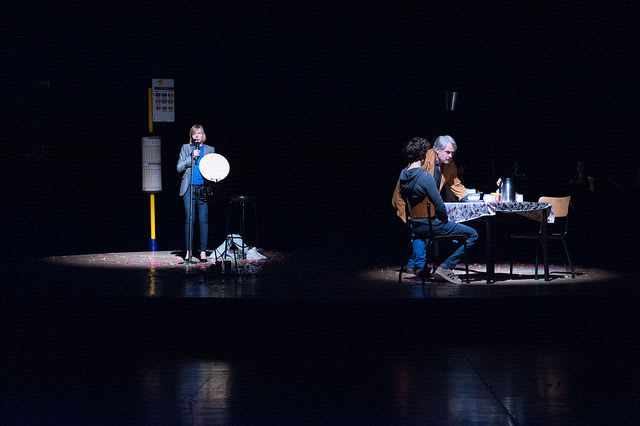 Tedious. But then perhaps that is the point.
The latest offering from the collaboration between Theatre Royal Plymouth and the always-unusual Ontroerend Goed (Fight Night, A History of Everything, Lies, Are we not drawn onward to a new erA etc) pays homage to routine.
Played on a rotating disc, vignettes portray a multitude of repetition: the breakfast ritual of a couple sampling jam, checking shopping needs, discussing who gets the car, where the cat is and the joint account; the stand-up comic's regular routine; the crisis manager's shift; the retailer whose patter is the same despite the increasingly outrageous costumes; the old chap walking or waiting at a bus stop between tablecloth-pulling displays… yawn.
There is symbolic self-inflicted and perpetuated water torture treatment and one feisty lad who, fed up of counting the loops, tries to stop the onward march but is eventually dragged along and cast aside as nothing can seemingly can stop the tides. But little else.
With four singers providing repetitive, wordless vocals and somewhat obscure repeated tics, the loops drone endlessly on and on both visually and aurally for an exceptionally long 75 minutes.
Reviewer: Karen Bussell