Lord Of the Flies
Nigel Williams, after William Golding
Theatr Clwyd & Sherman Theatre
Sherman Theatre
–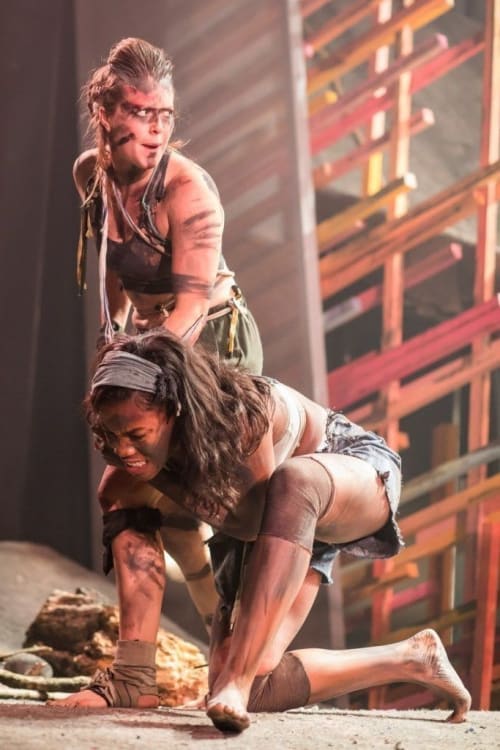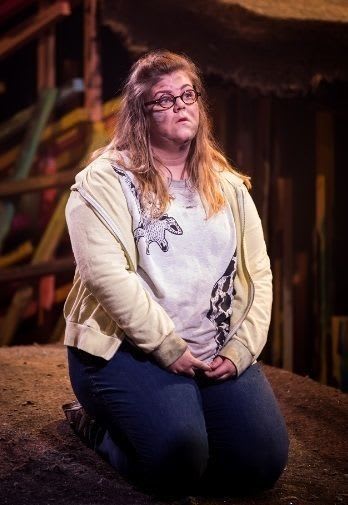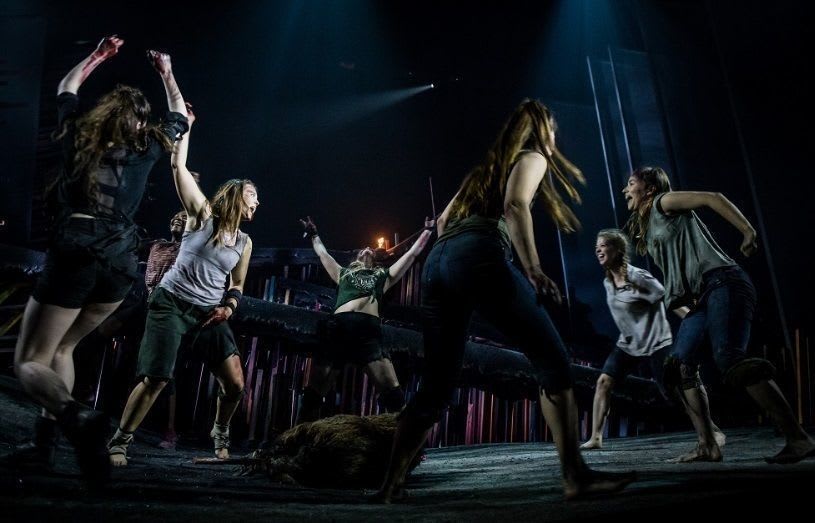 When it was announced, several months ago, that a Hollywood adaptation of William Golding's classic text Lord Of The Flies with an all-female cast was in the making, there were the now-customary cries of outrage from dark corners of the Internet, bemoaning either political correctness or presumed anti-feminism.
Theatr Clwyd, in conjunction with the Sherman, has got in there first, however, utilising Nigel Williams's Royal Shakespeare Company adaptation from 1996 and populating it with an impressive array of young actresses, some of them making their professional debuts.
Golding's novel can probably justly be described as "iconic", given that it is one of those books which everyone thinks they're read, even if they (like me) have not. The premise is straightforward: a group of youngsters being evacuated by air during wartime crash onto a deserted island and, left to their own devices, try and fail to build a workable society.
Immediately the lights go down in the Sherman's main auditorium, we are thrust into the realm of nightmares, Philip Stewart's explosive sound design and Tim Mascall's lighting effects chillingly evoking the shooting down of the aircraft.
As calm returns, we find ourselves on James Perkins's deceptively simple four-level set with a series of slopes leading from the beach, where we first encounter our protagonists, to a hill-top where the all-important beacon fire is to be lit, with wooden supports proving much scope for sheltering, hiding and scurrying.
The first stranded schoolgirls we encounter are paternalistic Navy brat Ralph, played by Lola Adaja, who awakens on the sand alongside Gina Fillingham's nervy, bespectacled Piggy. They are soon joined by other survivors led by Kate Lamb as the bellicose Jack, who immediately makes a pitch for leadership of the group and is supported by Leah Walker's street-smart Maurice and Lowri Hamer's war-ready Perceval.
Also in the mix are Hannah Boyce's vaguely mysterious Goth-styled Roger, Olivia Marcus as the mystical, epileptic Simon, inseparable but bantering twins Simon and Eric, played by actual twins Lowri and Mari Izzard, and Laura Singleton as Henry, the most childlike of the survivors.
Any idea of the youngsters being able to build a peaceful, democratic, mutually supportive community on what might be a paradise island quickly evaporate, the slaughter of a wild pig symbolising a rapid shift towards anarchy and rivalry leading to factionalism and conflict.
Director Emma Jordan maintains a febrile, kinetic atmosphere, assisted by movement director Liz Ranken and fight director Bethan Clark. Dark humour is never far below the surface, however, generally provided by the understandably whiny Piggy, whose constant taunting by Jack fuels much of the tension—Fillingham and Lamb are stand-outs in a talented cast. Stewart's sound design reflects the growing fractiousness, an idyllic tropical soundscape giving way to tribal drums in act II.
While the characters all have male names, they refer to one another using female pronouns—this is not gender-blind casting; the point being made is that no sex, race or class has a monopoly on unpleasantness. And as human lives start to be sacrificed, we are reminded that when the civilised order breaks down, it is always the most vulnerable and the most visionary who pay the price.
The decision to have the piece conclude with the arrival of the sole male character, played by Matthew Bulgo, might be questioned, since it seems to give the impression of female-oriented disorder being brought to an end by calming, masculine energy, which I'm sure is not the intention.
On the whole, though, this is a highly energetic and constantly gripping adaptation of a deeply disturbing tale; and sadly, one whose message remains as relevant as ever.
Reviewer: Othniel Smith