L'Ormindo
Music by Francesco Cavalli, libretto by Giovanni Faustini
Royal Opera House
Sam Wanamaker Playhouse at Shakespeare's Globe
–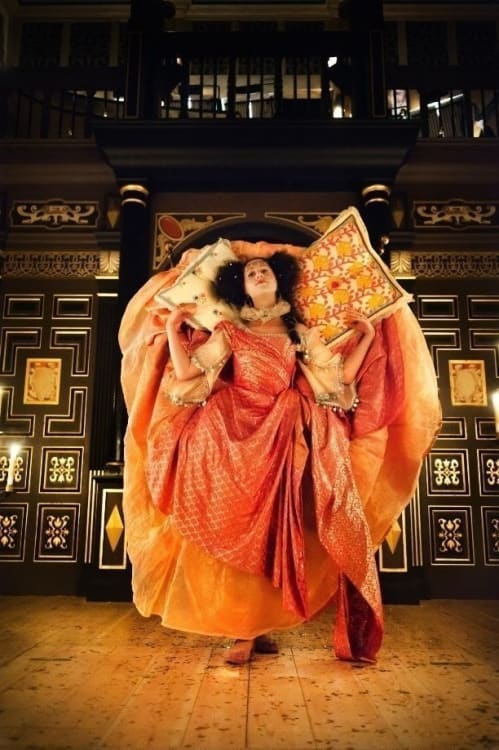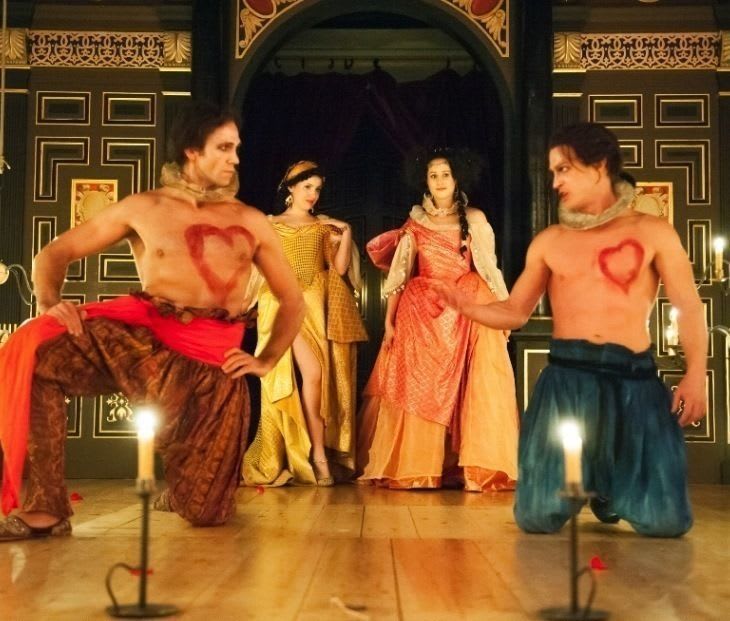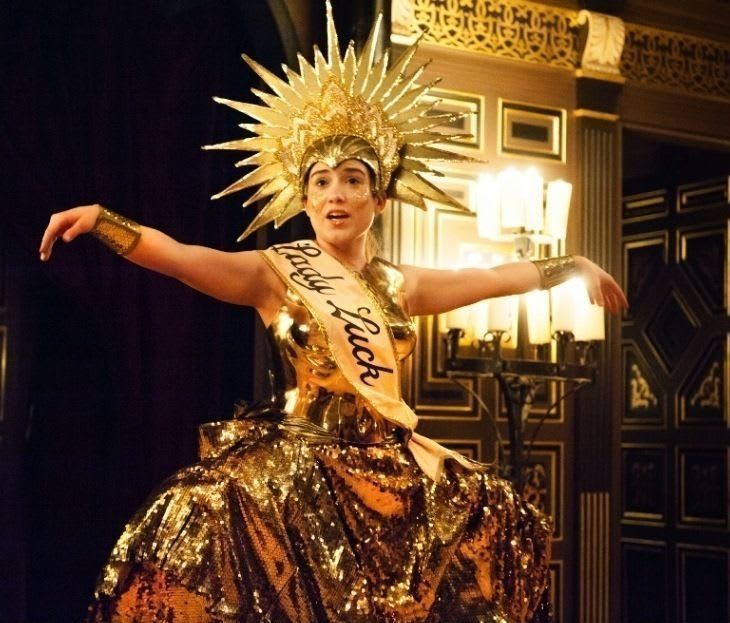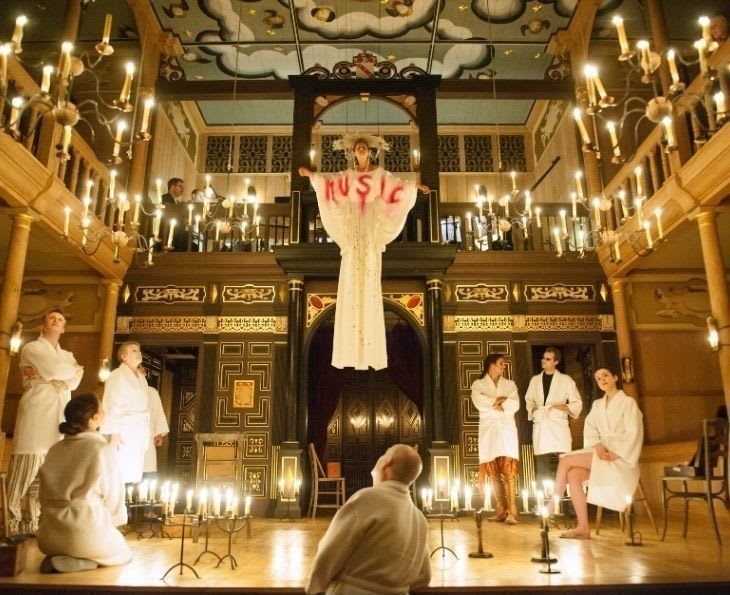 'Three months have passed since the building has admitted the Muses', Music sings in droll introduction, adding 'a further lustre' to the Sam Wanamaker Playhouse as she sprinkles gold dust over the stage.
No wonder Kasper Holten, director of opera at the Royal Opera House, couldn't keep his hands off Francesco Cavalli's baroque opera, L'Ormindo—not seen since Glynebourne's 1967 Raymond Leppard version. What a pleasure, what a ple-e-e-e-asure.
What a coming together of the Globe's new indoor Jacobean theatre, intimate, capacity 340, lit by some 72 beeswax candles—in the upper gallery the smell lingers—and Cavalli's third opera collaboration with librettist Giovanni Faustini.
Written and composed for the 1644 carnival opera season at Venice's Teatro San Cassiano, both knew how to please their public with this favola dramatica musicale.
A dramatic musical fable that is romantic, comic, knowing, and lyrical, with stock characters and Masque allegorical figures (angelic Music, a Papageno bird Destiny, giggly Lady Luck, and blind Love with a white stick) descending from on high.
And see how many Shakespeare (and Molière) tropes you can pick out in the story. Young queen Erisbe, loved by rivals Ormindo and Amidas (competing red hearts drawn over left breasts) but married to grey old king Ariadenus, is so greedy for young love that she wants them both.
But Amidas is betrothed to Sicle, who turns up in gypsy disguise with her nurse Eryka. Reading his palm she shows him to be an unfaithful liar. After Erisbe decides on Ormindo, Eryka entices Amidas to a cave with the promise of magic.
There she reveals Sicle's 'restless soul in torment'. To his surprise she comes to life and Amidas pledges to love her forever. Meanwhile, Erisbe and Ormindo flee the kingdom, but the Winds blow their ship back, and the king sentences them both to death by poison—to be administered by captain Osman.
However (still with me?) Mirinda, queen Erisbe's companion / lady-in-waiting, promises herself to Osman if he substitutes a sleeping potion for the poison. As he is about to die, Ormindo gives Osman a letter to give to the king from his mother. They 'die'.
The king is distraught to read that Ormindo is his long-lost son from a liaison with Ormindo's mother's sister in his youth… Overjoyed that they are not dead, he gives his queen, and his kingdom to his son, and all's well that ends well.
Three couples are united in love, and blessed by Love (James Laing), a full-grown cupid in heart-shaped pink tutu suspended from the painted ceiling.
A mix of sublime music and low comedy, but above all sex, lust and desire, in close proximity, L'Ormindo is a delight from Prologue start to happy finish. And the cast looks to be having a great time.
Wondrous arias all round, not only for the lead singers but the low characters too: Eryka and Nerillis, Amidas's page. Though in a cast of nine all are lead singers in effect. Eryka, sung by tenor Harry Nicoll—yes it's a travesti role—looks a cross between a saucy panto dame and an Indian hijra in 'her' fortune-teller's outfit.
James Laing's gullible counter tenor Nerillis is a joy, lamenting the wicked ways of women as he lusts after them. 'But I don't know what they're after, who'll provide me with the answer'. Led on by Mirinda, his hope of seeing her precious jewel is snuffed out.
Candles are used to maximum effect—extinguished slowly as death approaches, and a tease—now you see, now you don't.
Bass Graeme Broadbent is a stock pivotal tragi-comic figure as the king, a despised old man Pantalone as well as cruel potentate.
Sopranos Susanna Hurrell (Erisbe / Music) and Joélle Harvey (Sicle / Lady Luck)—this production is their Royal Opera debut, as it is for high tenor Samuel Boden (Ormindo)—are well on their way to well-deserved success.
Tall, dark and handsome Ed Lyon (Amidas) and baritone Ashley Riches (Osman) deliver darkening tones, but it is Rachel Kelly (Mirinda) of luscious mezzo-soprano voice and come hither looks who draws my attention.
In the minstrel upper gallery Christian Curnyn conducts his exquisite seven-strong Early Opera Company Orchestra, which he founded in 1994, from his harpsichord: violins, viola, bass violin, baroque harp, guitar and theorbo, a long-necked lute.
Eight players on nine instruments make heavenly music in the Playhouse's excellent wooden acoustic setting, and Christopher Cowell delivers a libretto translation that is wickedly witty, 'cunning and clever, now more than ever'.
Some would prefer L'Ormindo to be sung in Italian, and I must confess I prefer opera in its original language, but surtitle technology would be quite inappropriate in this 'authentic' Jacobean venue, so English it is, but sung with a clarity that will charm the naysayers.
In this first major collaboration between the Globe and the Royal Opera House Kasper Holten is in his element. His staging of L'Ormindo surpasses his Eugene Onegin and Don Giovanni. Using the whole theatre as his musical box, he has his actor singers venturing beyond the stage into the aisles, galleries, hanging off and hiding behind pillars, getting close and personal with the audience downstairs.
His creative team is superlative. Signe Fabricius choreographs beautifully for the small space, whilst Anja Vang Kragh's 'Vivienne Westwood / Alexander McQueen' glamorous costumes take us into fantasy realms and speak volumes, especially the dress as bed and bedding, without departing from the period.
'Shamelessly entertaining' Holten calls it, and it is that. Three acts (two intervals), prefaced with amusing allegorical figures, of jaunty and intense solo arias and duets, harmony and echo, humorous posturing, an expressive use of recitative, a mingling of comic and serious elements, fickle love, erotic, hedonistic, poetic, more please.
Another groundbreaking collaboration is promised in January 2015 between the Royal Opera House and The Roundhouse in Camden: Monteverdi's L'Orfeo, conducted by Christian Curnyn, and directed by former RSC artistic director Michael Boyd. That should be something.
BBC Radio 3 will broadcast L'Ormindo on 5 April at 7:30PM. I wish it were BBC 2 or 4, or a 'Live' transmission, for this production's visual delights and setting ought to be seen as well as heard by as many people as possible.
Reviewer: Vera Liber