The Lost and Found Orchestra

Royal Festival Hall
(2008)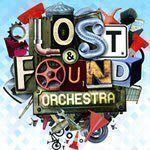 The Lost and Found Orchestra play rubbish. That is not an example of bad grammar but a factual statement.
It is no surprise that this show was featured on Blue Peter in the run up to opening night. They are the embodiment of everything that programme has championed for the last half century.
The 40-strong band make music using such detritus as vacuum cleaners, road cones and even dustpans and brushes, not to mention fifty more examples of similar ilk. This includes a lot of invented instruments with fine names like rope ladder marimbas, plumpets and squonkaphones.
L & F has been put together by the creators of Stomp, Steve McNicholas and Luke Cresswell. The two hour concert has already wowed audiences in a sell-out run at the Sydney Opera House and appeared in their home town of Brighton but this is their London debut.
Habitués of the Royal Festival Hall will be in for a shock. Compared to the cultured sounds of some of the finest classical orchestras in the world, this group are positively brash and at times overly loud.
Where they score is in mixing performance and sound with a big dose of that Blue Peter novelty factor. This makes for a great spectacle when all guns are blazing or performers are duelling with long sticks. They are aided by some good choreography and exciting light show that owes something to rock concert techniques.
The music tends to be minimalist with ambient overtones, generally much stronger on rhythm than melody. The orchestra is probably strongest when playing loud percussion with great energy. However, tunefulness is added by violin-substitute bowed saws and glass harmonicas.
If all that was on offer was the music, the appeal would have worn off long before the end. L & F though is a kind of maxi version of Stomp with great performances from an energetic bunch.
Judging by their well-muscled scruffiness and tremendous agility, the majority have risen through the ranks of street entertainers to the pinnacle of achievement represented by Sydney and the Festival Hall.
While a good number are talented musically, rather more are all-round performers, including one diminutive crowd-pleaser who is there just to get laughs - and he does so repeatedly.
Lost and Found Orchestra is great fun for all of the family and deserves to be a seasonal hit.
Reviewer: Philip Fisher