Lotty's War
Giuliano Crispini
Yvonne Arnaud Theatre
Richmond Theatre
–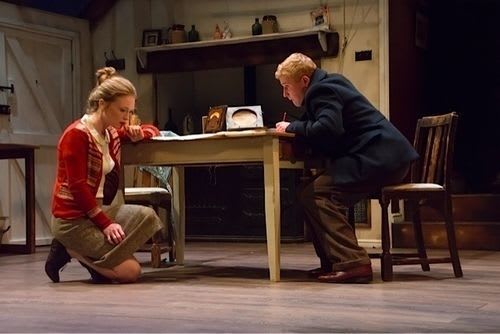 Inspired by recently discovered diaries, Giuliano Crispini's play takes as its focus the WWII German occupation of the Channel Islands, distilling that tumultuous, tension-filled period into an intimate drama featuring just three characters.
The play's eponymous heroine is a young Guernsey girl who, on the day of her father's funeral, finds her home commandeered by a German general, Rolf Bernberg, who demands that she stay and wait on him.
Lotty's initial reaction is one of anger and resistance, but she gradually becomes aware of the futility of any opposition. And as the months—then years—pass, she and the general settle into a weird routine, gradually growing closer in a way that draws the consternation and disapproval of the community, in particular that of Lotty's friend Ben de Carteret, a young man who harbours hopes of marrying her and who becomes involved in the underground resistance movement.
As a claustrophobic, hothouse examination of occupation and resistance, Lotty's War is highly reminiscent of Vercors's 1942 novella The Silence of the Sea (itself skilfully adapted for the stage by Anthony Weigh in a production that ran at the Trafalgar Studios just last year), in which a German officer is billeted at the coastal home of a Frenchman and his niece who respond to his presence with silence.
And if Crispini's play doesn't manage to match Vercors's work for poetry and insight it proves involving nonetheless in Bruce Guthrie's proficient touring production.
The more high-octane moments are sometimes awkwardly staged, and the structure could be improved, but the production scores in its quieter, contemplative sections, in which shifts in character dynamics are poignantly and persuasively conveyed. An excellent sound design by Mike Walker enhances the atmosphere, and the performances find the right emotional beats.
As Lotty, Olivia Hallinan clearly delineates the character's shift in perception of the intruder, moving from suspicion and hostility to sympathetic interest and love, as she embarks on an affair for which she finds herself ostracised by the community.
As the boyish Ben, Adam Gillen's quirky intonations and physical tics (at times recalling his great comic turn as Liam in TV's Benidorm) will be an acquired taste but the actor gives an arresting performance and brings an ardent, touching quality to certain scenes.
And, as the German, Mark Letheren contributes a subtle stand-out performance that combines affability and quiet menace to compelling and memorable effect.
Reviewer: Alex Ramon