The Silence of the Sea
Vercors, in a version by Anthony Weigh
Donmar Warehouse
Trafalgar Studios
–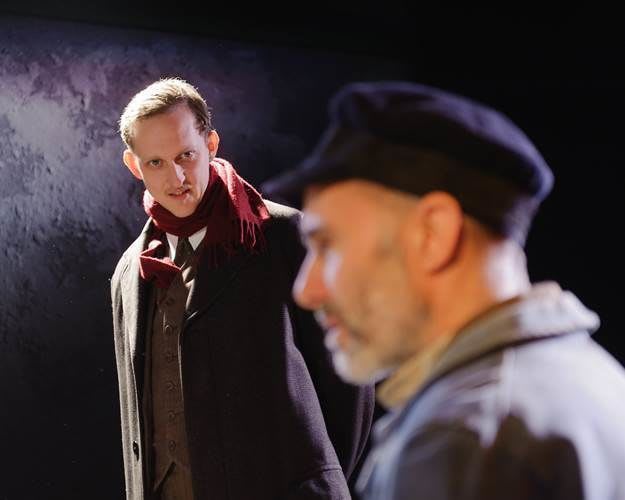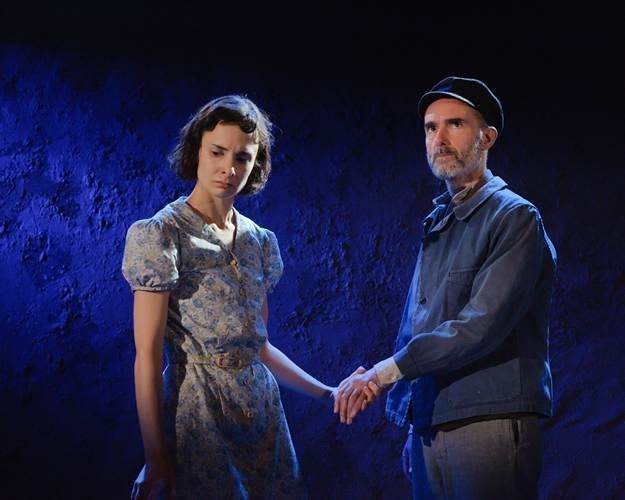 The Silence of the Sea, which completes the Donmar's Trafalgar Season highlighting the talents of young directors, is a quiet piece of symbolism set in the same period as the opening work in the programme, The Promise.
Where Alexei Arbuzov's play took place in a Russia under siege, this work views wartime deprivations and fear from occupied France.
The bare location of the drama is a wooden house belonging to an Older Man played by Finbar Lynch and shared with his silent niece, Simona Bitmaté, conveying volumes without uttering a word throughout the 90 minutes until the very final scene.
She does present her own version of a prologue, exquisitely playing an invisible piano. This is the first of numerous evocative sound effects that replace almost every prop in Ben Stones's simple design concept, bar a needle and thread.
The uncommunicative pair have been thrown together by the girl's father's activities in the Résistance. They may be at odds but are given a common point of reference and hatred by their loquacious visitor, a man who can speak at length, as he has absolute power over their fate.
Leo Bill's genteel German Officer wears a smart, three-piece, brown suit to cover his identity (from the audience rather than the French) but gives his hosts no choice when he decides that their home will make a good billet.
However, as we discover from one of his many lengthy monologues, this former composer is deeply uncomfortable with his lot and his country's occupation of France, for which he claims to have a romantic, vicarious devotion that has lasted from childhood.
This does genuinely seem to be a man who wants to be good but is prevented by fate from fulfilling that desire.
His speeches are counterpointed by those of the Older Man, which tend to be pithier but are just as heartfelt. He cares for the Young Girl who will hardly speak to him and realises the danger of their plight, whether they are Jewish (a possibility that is never resolved) or merely too close to the Résistance for comfort.
The two men speak emotively in Anthony Weigh's sometimes poetic translation, though frequently more is implied than actually said.
Simon Evans, who is the showcased director, draws fine performances from the acting trio and creates a deliberately uncomfortable atmosphere, primarily through the soundscape, designed meticulously by Gregory Clarke.
The Silence of the Sea primarily operates by vocalising inner thoughts and feelings or, in the case the Young Woman, holding them in. As such, it is almost anti-dramatic and could work at least as well as a radio play.
Reviewer: Philip Fisher