Louder Is Not Always Clearer
Jonny Cotsen & Gareth Clark
Mr and Mrs Clark
Seligman Theatre, Chapter, Cardiff
–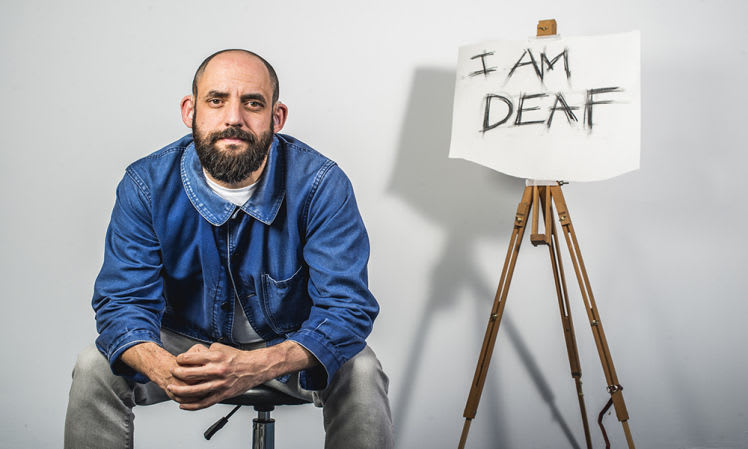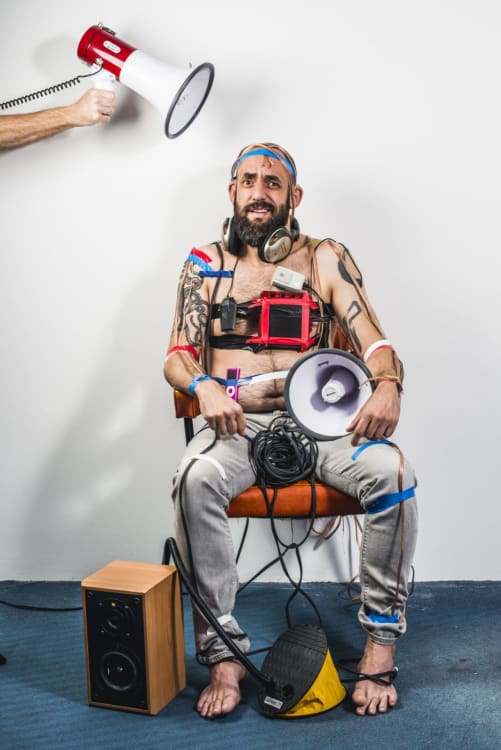 Jonny Cotsen is a well-known figure on the Cardiff arts scene as performer, educator and activist. He has also been deaf since birth and, unavoidably, puts this at the heart of his practice.
Louder Is Not Always Clearer, devised by Cotsen in conjunction with director Gareth Clark, was first performed in 2017, and these dates in Chapter are part of its second tour.
Since this is a piece which focuses on deafness, it is perhaps surprising that as we first see Cotsen, he is sitting at his desk, towards the back of the performance area, jigging to a synth-pop tune. In front of him is a laptop computer; on the other side of the stage sits sound designer Chris Young at his console.
As the piece commences, Cotsen steps up to the centre-stage microphone and makes as if to sing—but nothing comes out. He tries again seems to fail again, in a pantomime of crippling apprehension.
There follows a series of vignettes reflecting his journey. We see him practising the pronunciation of vowels, consonants and words in conjunction with extravagant movements. Live typing on his computer, with words displayed on a big screen, he wonders how many of his audience have sex with the lights on, pointing out his need to lip-read in such situations.
He recalls his 21st birthday party, at which he had requested a karaoke machine, but was advised not to sing for fear of embarrassing his guests. He recreates an awkward, wordless first date, with a glitching version of Eric Clapton's "Wonderful Tonight" as the soundtrack. He straps on several sets of headphones, depicting the confusion which results from first using a hearing aid and struggling to process the resultant information overload.
There is also much positivity. Courtesy of choreographer Catherine Bennett, there is some sinuous dancing, as Cotsen expounds on his love of loud, bass-heavy music. And he also lists his numerous achievements: earning a post-graduate degree, getting a job in IT, travelling, making art, bungee-jumping etc.
Louder Is Not Always Clearer also includes moments which turn the tables on hearing members of the audience in terms of exclusion: there is silent video of people speaking slowly and clearly which we are challenged to lip-read, but which goes untranslated; as are signed conversations with deaf members of the audience.
His impressions of the reactions of hearing people to his deafness—shouting, expressing sadness, improvising sign language etc.—are also merciless.
Perhaps the most moving moment is the recorded interview with his mother during which she admits that she was in denial over Jonny's deafness for most of his early life, ponders on the wisdom of sending him to "normal" schools and expresses pride at his subsequent accomplishments.
The tone throughout is good-humoured, as Cotsen points out that deafness promotes a richer appreciation of other senses, primarily touch. And, to conclude, he finally lays to rest the ghost of his karaoke nightmare.
The show gives us valuable snapshots of the challenges faced by deaf people; and those audience-members who share Cotsen's condition seemed as amused as the rest of us in a sold-out theatre.
The structure seems a little haphazard, and maybe a stronger narrative through-line wouldn't hurt, but Louder Is Not Always Clearer is a counter-intuitively entertaining 75-minute smorgasbord.
Reviewer: Othniel Smith