Love from a Stranger
Agatha Christie and Frank Vosper
Fiery Angel and Royal and Derngate, Northampton
Curve Theatre, Leicester
–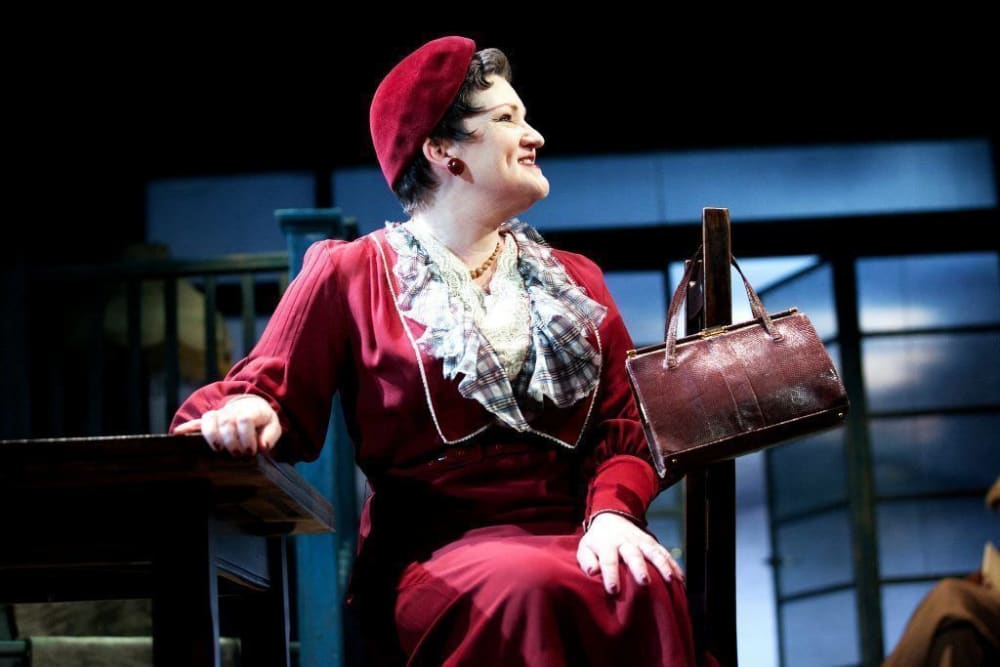 If you happen to have an Aunt Lou Lou in your life, listen to her. Although something of a Lady Bracknell-esque character and comedic relief in Agatha Christie's thriller Love from a Stranger, it turns out Auntie has a knack for sniffing out a wrong 'un.
Christie's work is enjoying something of a renaissance, what with the high glamour of Kenneth Branagh's 2017 movie remake of Murder on the Orient Express and the BBC's chilling TV adaptation of And Then There Were None in 2015.
Perhaps a surprising nugget of information regarding Ms Christie is that she is the most successful female playwright of all time. Writer of 20 plays, not least the West End marathon The Mousetrap (now in its 66th year), she is still likely to be more well known as a novelist; synonymous with crime and detection, although her focus is always on the why and the who rather than police procedure.
And Love from a Stranger is totally relationship driven. Based on Christie's 1934 short story Philomel Cottage, she adapted it for the stage with further embellishments by Frank Vosper, opening in the West End in 1936. Now, and following success with her revival of Christie's Witness for the Prosecution), director Lucy Bailey gives this Fiery Angel and Royal and Derngate Northampton touring co-production a re-boot, re-setting it in 1958. Save for a few references and costume changes, however, it could be set any time thanks to its central themes of control, coercion and humankind's innate fallibility.
Bored and uninspired by the thought of marrying her staid and dependable fiancé Michael (Justin Avoth), newly-minted Cecily Harrington (Helen Bradbury) calls off the engagement in search of a more adventurous and spontaneous life, the intermittent but insistent ticking of a clock a significant background noise. With immaculate timing, enter charming American Bruce Lovell (Sam Frenchum), interested in renting Cecily's flat but, as the audience quickly discovers, with more sinister plans in mind.
Mike Britton's ingenious set enables us to see what Cecily doesn't—the shifting walls and rooms literally changing our perspective and viewpoint. Not knowing Bruce is a peeping Tom with an unhealthy interest in her lingerie, Cecily falls quick and hard for this stranger, and is soon Mrs Lovell.
We must believe prim and proper Cecily will do this, and Bradbury and Frenchum convince as a couple who fall in love at first sight, he seemingly providing all the freedom and escape she is craving. Frenchum's penetrating male gaze is chilling, but irresistible. My reservations about Cecily's actions niggle: why would a woman of newly-independent means seeking a different life marry and settle down so quickly? Still, this is 1958 not 2018 of course, and when under sexual tension's intoxicating spell, you'll do anything.
Aided by judicious use of screens and blackouts, Oliver Fenwick's clever lighting and Richard Hammarton's unnerving sound design, Bailey directs this thriller with aplomb, building tension and moving matters along with controlled pace. The supporting cast work well, including Nicola Sanderson's imperious Aunt Louise Garrard, and rather fruity maid Ethel (Molly Logan), all asking questions, sprinkling clues and firing the odd smoking gun.
Don't think too hard about the plot (although it makes for a lively post-show discussion), this is an absorbing and unsettling thriller, packing an erotic charge and with a corker of a climax.
Reviewer: Sally Jack