Love in Idleness
Terence Rattigan
Chocolate Factory Productions & Nica Burns, Darren Bagert/Joan Raffe, Scott D Delman
Apollo Theatre
–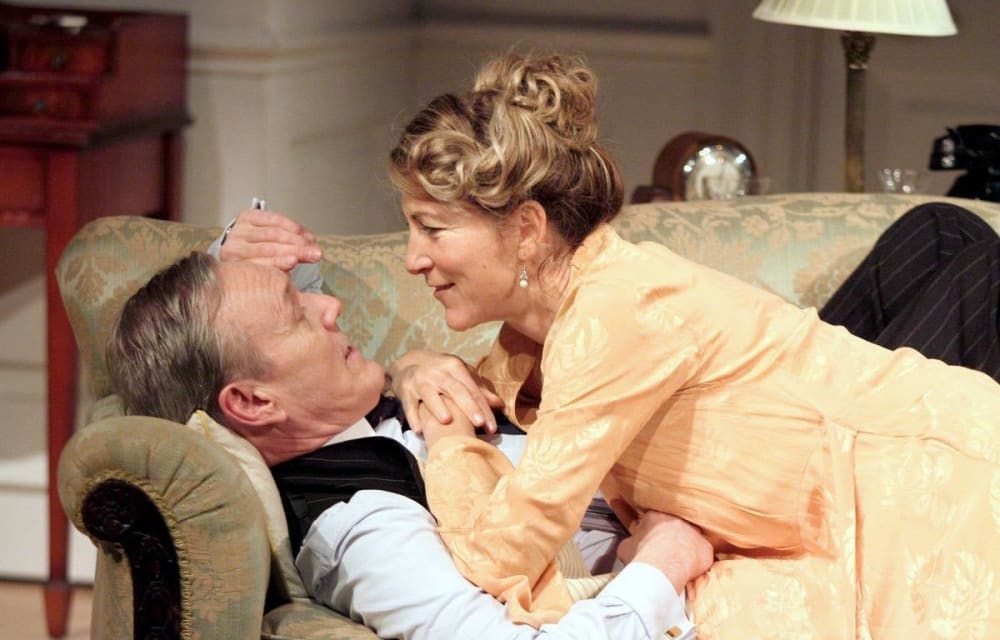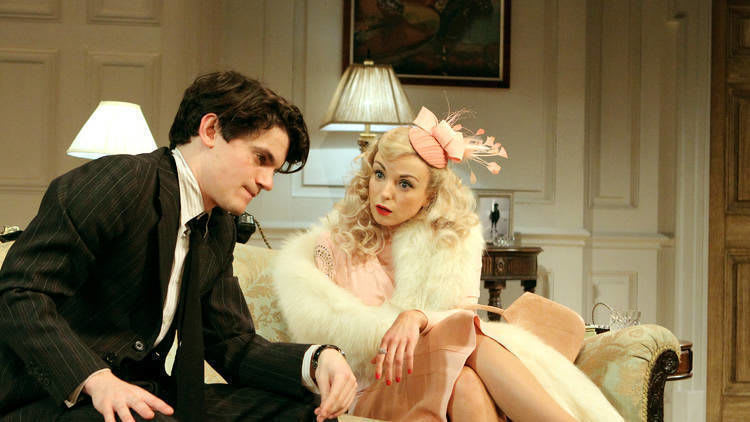 In 1944 Terence Rattigan wrote a play about a widow in a relationship with a government minister, which she tries to disguise from her teenage son when he returns from evacuation in Canada.
Rattigan had written it for Gertrude Lawrence but she turned it down. No one offered to produce it, but the Lunts saw it as a vehicle for them and asked for a rewrite. The original version, Less Than Kind, had to wait for a production until 2011 when it was seen at the Jermyn Street Theatre, but after a pre-London tour this new version, shorn of some of its politics, debuted in the West End as Love in Idleness in December 1944.
Taking up a suggestion that Dan Rebellato made in his introduction to both plays as published by Nick Hern Books and with the approval of the Rattigan Estate, director Trevor Nunn has conflated both plays keeping structural improvements of the later script but restoring the more serious political content. That is the version that was produced at the Menier Chocolate Factory in March and has now transferred to Shaftesbury Avenue.
In some ways, it follows a rather conventional mid-twentieth-century three-act format (though played here with one interval bang in the middle) and set up as farcical comedy with a delightful tongue-in-cheek send-up of a social hostess's wartime priorities.
Sir John Fletcher is a Canada businessman serving in Churchill's war cabinet as the minister responsible for tank production—and there are problems with the latest design that are making life difficult. Olivia, sharing his elegant Westminster home, is more concerned with making up her dinner table with appropriately important guests. Their acquaintances in society accept their relationship. They'd be married were it not that for him to get a divorce might embarrass the government.
She has not always lived the high life. Her former husband was a dentist. Perhaps that's why she is so concerned about proprieties, but she has never told her son about the change in her own life. Now, when he turns up, she still can't find how to do so and explain how she comes to be living this new lifestyle so beautifully suggested by the clothes designed by Stephen Brimson Lewis who provides an elegant setting in the tradition of Hutchinson Scott (though what secret symbolism is intended by having one door left with wood sealed rather than painted eludes me).
The first act does rather indulge itself with her social fripperies and farcical failures to reveal the truth and returning son Michael's radicalism with his devotion to Harold Laski, though declaring he's "anti-Fascist but not a Communist," is just a bit too simplistic for a serious mid-twentieth-century seventeen-year old and seems closer to farce than reality but it is humour that Rattigan is after. Eve Best as Olivia and Edward Bluemel as her son play it to the hilt and there is a perfect performance from Anthony Head as Sir John. This is Rattigan with an Oscar Wilde hat on, being cleverly funny.
This Sir John may have been born into privilege, but he was made to work his way up through his father's firm and, though Michael sees him as the enemy, his ideals are not so far from Michael's. This is the time when Conservative Minister Rab Butler oversaw the Education Act that brought in free education and the Beveridge Report paved the way for the Welfare State. While keeping his fashionable West End audience amused, Rattigan was stating a case too.
There are a servant (Nichola Sloan) and a secretary (Vivienne Rochester) who are stock characters of the period and an authoress that's a comic caricature, but he created an intriguing good-time Lady Fletcher to add a twist to the plot and provide Charlotte Spencer with comic opportunities based on the sympathetic understanding that shines through most of his writing: we know exactly what she thinks of the posh prigs she consorts with.
This isn't a play at the top of the Rattigan oeuvre but it shows him cleverly adapting what he wants to say to an acceptable 'forties commercial format. It is well-made (no irony, I mean that as a compliment) and, when played with such flair as it is here, very funny.
Reviewer: Howard Loxton