Love in Idleness
Terence Rattigan
Menier Chocolate Factory
–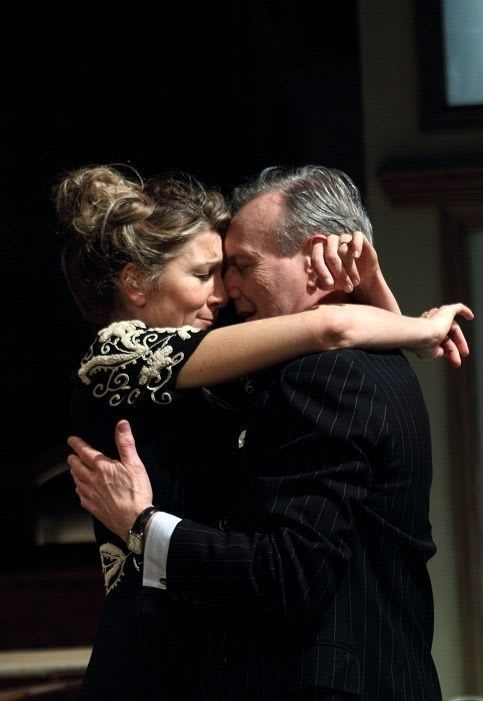 While Love in Idleness has not been revived since its initial production in 1944, the plot will seem familiar to those who saw Less than Kind at Jermyn Street in 2011. That is because it is a later version of the same play. To add to the history, the version used here by Sir Trevor Nunn is a synthesis of the two.
Designer Stephen Brimson Lewis has created an attractive set on the diagonal playing to an audience set out in a right angle. The first three scenes depict the comfortable Westminster drawing room of Anthony Head's Sir John Fletcher, a Canadian business magnate serving his adopted nation as Minister for Tank Production. He is also, looked at by the standards of the times, "a rich voluptuary" living in sin with "a weak, poor, defenceless widow" of a certain (reducing) age.
As such, this is also the home of Mrs Olivia Brown, played with charm and wit by Eve Best. She is an arrant social butterfly, dedicated to impressing her peers and spending a fair portion of Sir John's wealth for him in the process.
The catalyst for comedy and change is the return from Canada of Olivia's evacuated son Michael, no longer the little boy of his mother's fond remembrance but a red-blooded and very handsome young man on the verge of his eighteenth birthday.
Edward Bluemel's character is also a well-read socialist, doting on Harold Laski and detesting everything about Churchill's Government, including the man with whom his mother is in love. He is also bright enough to know that borrowing angst from Hamlet is always likely to win an argument or even drive off an eligible future divorcee. Having said that, Michael also shows double standards, sometimes more in the service of the plot than his own soul.
When the tale needs a little additional vim, it arrives in the seductive form of Helen George, playing the flighty, youthful Lady Fletcher. She is a gorgeous package who is brainless and faithless but attractive to Michael, upping the stakes as he desperately tries to part Sir John and Olivia.
Through 2¾ hours, the comedy rarely lets up, while viewers will also learn a good deal about politics 75 years ago, mature love and youthful infatuation.
This highly entertaining production demonstrates the versatility of Eve Best, who delivers the kind of performance that wins award nominations. She is very well supported by Anthony Head and, in an appearance that could well herald great things, the highly promising Edward Bluemel.
Where Less than Kind was a relatively straight drama with comic undertones, this new version is presented as far more of a social comedy. Occasionally, all involved seem to be trying a little too hard for laughs but overall, the play loses little in the transformation and should be yet another triumph for the Menier. With the theatre's pedigree, there must therefore be every chance that it will follow Travesties and so many more of the Menier's home-grown hits into the West End.
Reviewer: Philip Fisher