Love, Lies & Taxidermy
Alan Harris
Paines Plough, Sherman Theatre, Theatr Clwyd
Sherman Theatre, Cardiff
–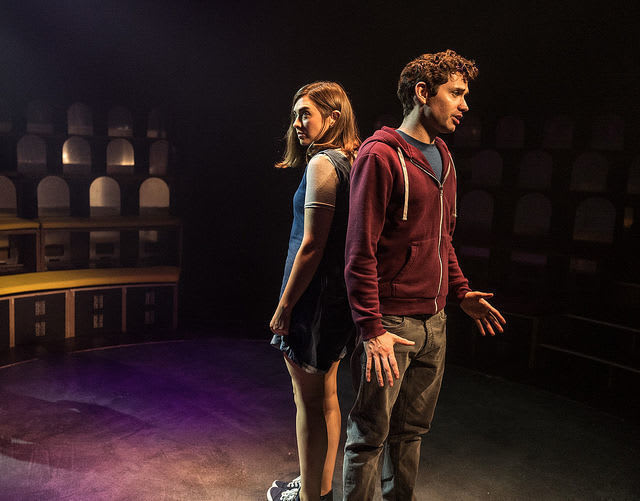 Love, Lies and Taxidermy arrives in Cardiff at the end of a lengthy tour, which took in a much-praised run on the Edinburgh Fringe. It is part of Paines Plough's Roundabout programme of new writing: plays designed to be produced in pop-up venues.
Set in Merthyr Tydfil, once the largest town in Wales and now a lazy byword for post-industrial greyness, Alan Harris's fast-paced romantic comedy takes as its subject young love in a time of economic uncertainty.
The action—and there is plenty of it—unfolds in-the-round in a bare performance-space, director George Perrin breaking theatrical story-telling down to its very basics. The three actors—Remy Beasley, Richard Corgan and Andy Rush—share the narration, and each takes a number of roles.
Energy levels are high from the beginning and throughout as we meet teenage college-mates Valentine (Rush) and Ashley (Beasley) who seem to be on something resembling a first date. The virginal Valentine is tentative and Ashley more brazen, but there is obvious chemistry between them.
Things are complicated by their family circumstances, however. Ashley's ice-cream-man father, Mr Tutti Frutti, is in deep financial trouble, and she is contemplating drastic action in order to assist him.
Meanwhile, Valentine also has parent-orientated worries: Jakob, his Polish father, a builder whose true vocation is taxidermy, is separated from Vicky, his mother, and hopes to win her back. He specialises in turning roadkill into works of art; something of a metaphor, this being ultimately an optimistic tale.
While it takes a few minutes for one to grow accustomed to his characters' speech patterns, Harris's dialogue is lively and authentic. Set over a week, Love, Lies and Taxidermy is tightly plotted, boasting a ticking-clock narrative and a refreshingly satisfying resolution.
Rush and Beasley are instantly recognisable and likeable as would-be boyfriend and girlfriend. It is Corgan, however, who gets to have the most fun in his multiple incarnations—most notably Maxie, the weaselly pornographer, and the worldly-wise Jakob. Beasley's lubricious, middle-aged Conservative Club member is also a highlight.
Every inch of the small space is used (as well as some of the seats) and there is much eye contact with audience members as the story reveals itself. Dominic Kennedy's score is propulsive in an action-movie style, cleverly synchronised by Perrin, in conjunction with Prema Mehta's understated lighting design.
This is a relentlessly lively production of a fast, funny and hopeful play, warm without being sentimental and performed with great skill and verve.
Reviewer: Othniel Smith