Love n Stuff
Tanika Gupta
Oldham Coliseum
Oldham Coliseum
–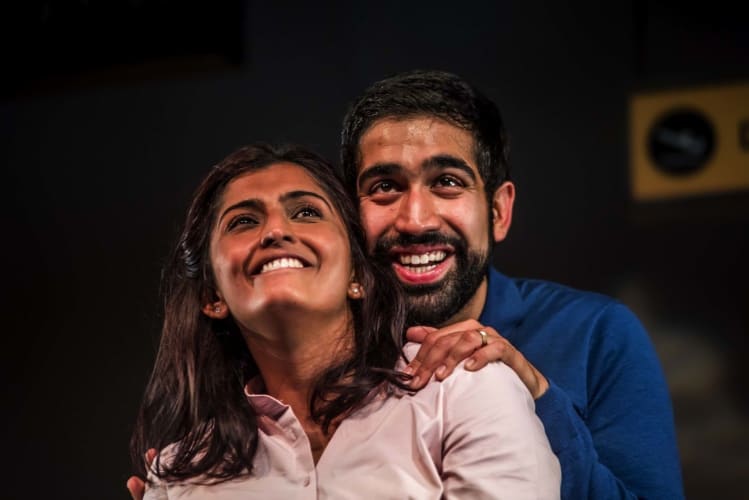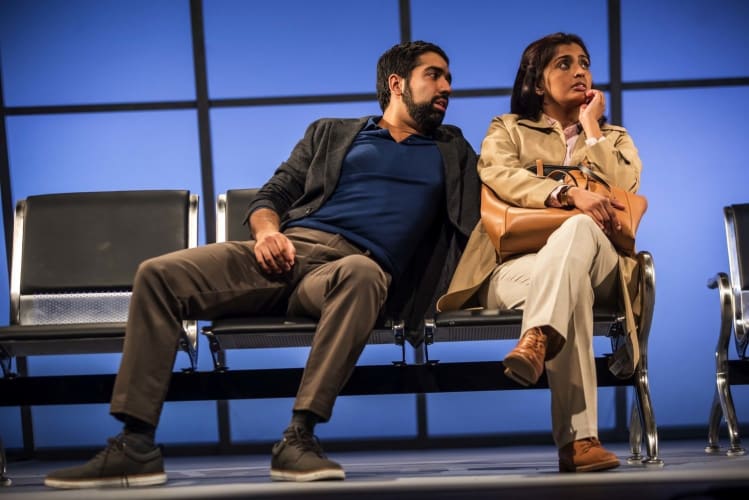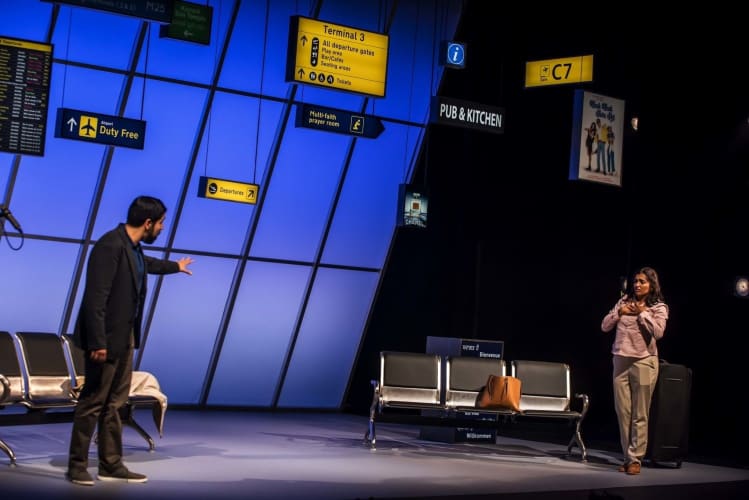 Originating in an Emma Rice directed play The Wah Wah Girls in 2012, the popular characters of Bindi and Mansoor, and the actors that played them, were given their own play, Love n Stuff, by writer Tanika Gupta the following year at Theatre Royal Stratford East.
The play picks up their story at a turning point in their marriage. The setting is the airport, where Mansoor (Maanuv Thiara) is waiting for a long-delayed one-way flight to India after leaving his wife Bindi (Komal Amin) a note to say he needs to return to his roots with that common modern phrase of selfishness, "I have to do this for myself." Bindi tries everything to get him to stay, from anger, to tempting him with food, to taking him back to when they met as people from different religions—he Muslim, she Hindu—and married for love against their families' wishes before moving to England, to some ill-judged schemes involving their friends, two cats and a fake police office.
He doesn't help by saying he will send for her, like a piece of furniture, when he gets settled. They get to a stalemate when she says if he loved her he'd stay, and he says if she loved him she'd follow him.
The characters are all played by Amin and Thiara without any changes of costume, sometimes changing character on the spot or playing more than one person on stage at the same time. While they seem a bit young for the main couple, each has an impressive repertoire of characters that cut across ages, genders, nationalities and accents. It's a style reminiscent of some early John Godber plays, or perhaps more like Jim Cartwright's Two, as this also keeps coming back to issues with the marriage of the main couple—which also centre on the absence of a child.
Both actors create some great characters, but switching between them isn't always made clear by the production. I don't know whether this version has been cut to become interval-less or whether I missed something, but I learned details about some of the secondary characters from reading a colleague's review of the original production that I didn't pick up from watching it.
Hannah Sibai's design has some convincingly real elements of an airport waiting area including signage and seating, which are moved around to create the impression of different places in the flashbacks and parallel scenes, apart from the last scene, for which everything is cleared from the stage to create a living room.
Amin and Thiara create some leading characters that are easy to warm to for a comedy script that can often be amusing and did raise a few smiles, but I don't remember any of my smiles becoming vocal. The ending is touching but a little drawn-out.
Overall, a mildly amusing but not particularly memorable comedy that is performed well and brings welcome diversity to the Oldham stage, but otherwise isn't anything to write—or fly—home about.
Reviewer: David Chadderton