Love's Comedy
Henrik Ibsen, in a version by Don Carleton
Orange Tree, Richmond
–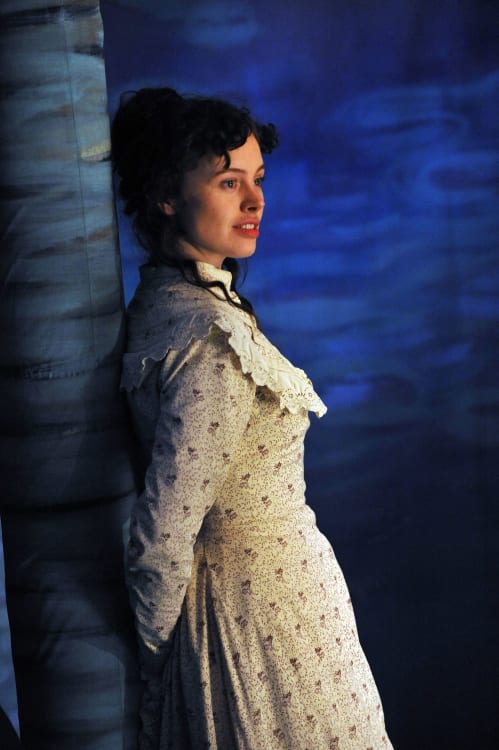 Love's Comedy becomes an increasingly ironic title for this fine drama as the 2¾ hours play out. Quite why the piece has disappeared from the repertoire is a mystery, as it is an enjoyable work that prefigures much that will follow from the great Norwegian writer.
Strangely, it brings to mind a number of playwrights, who would usually seem to have little in common. The delightful setting by Sam Dowson, combining garden and terrace with an evocative backdrop by Munch, is Chekhovian, as is the mood.
The plotting owes much to Shakespeare, as variations on love's theme and its inability to run smoothly are used to generate comedy, while several of the speeches are positively Shavian, though the chatter, especially about love is often delivered in rhyming verse.
There is even a generous dose of Norse mythology, as each of the players is given a name with underlying significance.
Overriding everything else though are characters and ideas that mark Love's Comedy as Ibsen's own, though expounding the views of a young man who could appreciate the hopefulness that love can engender and tell the kind of jokes that maturity is likely to stifle.
At a weekend house party, one could almost be playing a parlour game with psychology revealed by personal attraction. To take the female dramatis personae, the choice includes a bossy control freak, a parson's wife with twelve children and counting, a matchmaking widow, a silent housewife and, last but certainly most, a quietly beautiful feminist with powerful feelings and an unshakeable moral grounding. Your reviewer instantly fell for the last of these, Swanhild, as well-played by young Sarah Winter as her male counterpart Falk is by Mark Arends.
The former is named for "A princess in Nordic myth; her punishment for choosing true love is to be trampled to death under her own horse's feet".
Her dedicated admirer is the falcon representing liberty, freedom and victory. He is also a younger Peer Gynt, Brand or Dr Stockmann that renowned Enemy of the People.
The first two acts leading to a belated interval really are amusing, as couples pair off into the mundanity of married, or at least engaged, life.
In these scenes, Stuart Fox playing the fecund pastor with Malapropian tendencies is particularly strong, along with Amy Neilson Smith as the fearsome fiancée of Mark Oosterveen's lawyer Styver (a coin of no value = person of no importance).
In the final act after the interval, the fun gives way to serious philosophical debate about love and its consequences for real people with long lives to endure.
Love's Comedy shows us a recognisable but quite different Ibsen and despite the writer's tendency towards over-earnestness, this well-judged production directed by David Antrobus strongly suggests that it deserves to be seen more widely and frequently.
Reviewer: Philip Fisher