Love Your Soldiers
Robin Hooper
Sheffield Theatres
Crucible Studio
–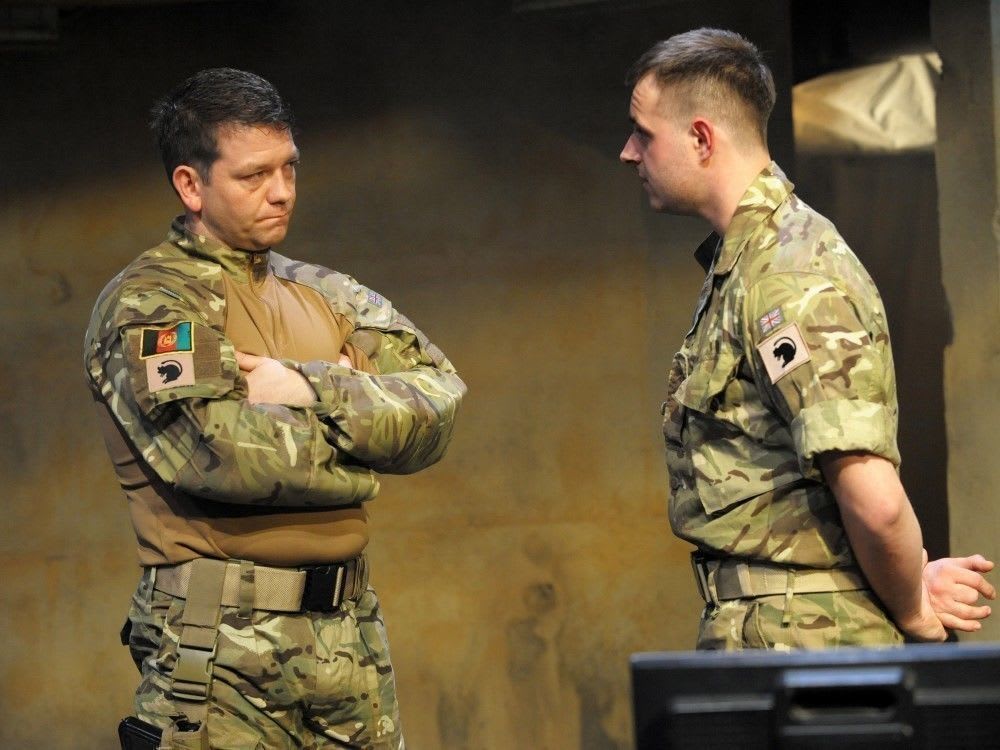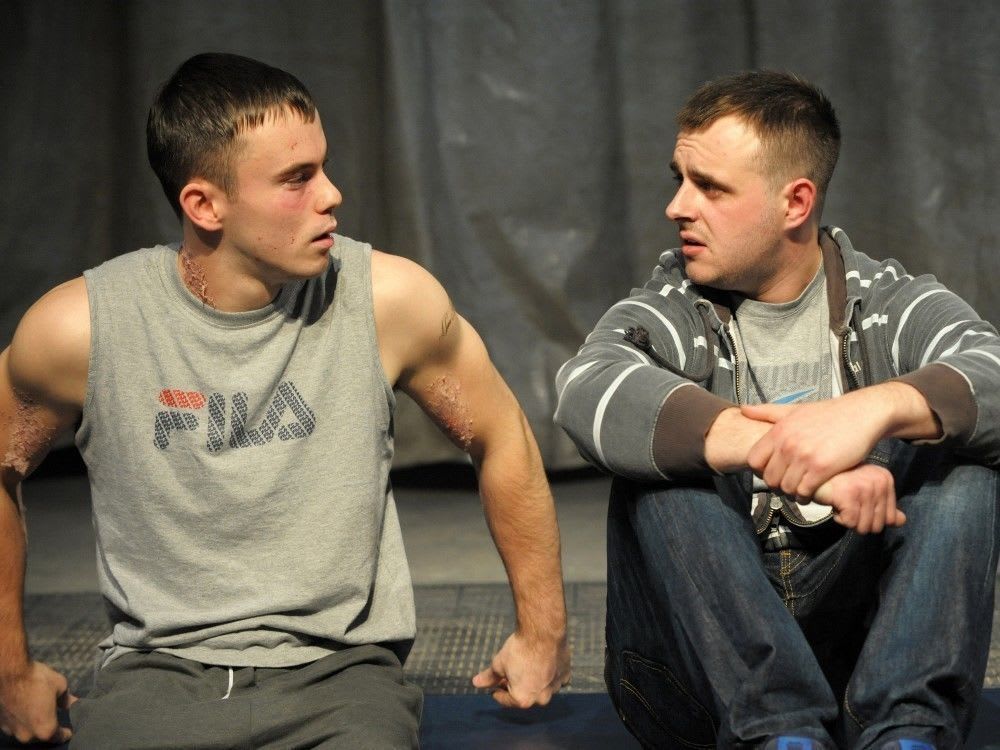 This is a stunning production. We are so used to celluloid depictions of war (blood and guts) that it is quite remarkable to see a stage production in a small space that evokes the horror and complexity of war through the experience of five core characters directly or indirectly involved.
Two British men are fighting in Afghanistan. Ken's girlfriend, Gemma, gives brief consolation to Roly, and then feels committed to support him when he is badly wounded. Ken feels something is amiss, and begins to distrust Gemma when she ducks questions on the Services Internet connection.
Meanwhile, in Afghanistan, Ken engages in 'bachi bazi', dancing with a young boy dressed as a woman. Some suggestion of latent homosexuality here, which is suppressed by the sergeant, who later engages in a life saving event of equally dubious sexuality.
The Afghans don't do well out of these encounters. The dancing boy is betrayed and murdered. And his twin brother, a slightly tricky device, is killed under fire. The balancing thing, very welcome, is the British Afghan, Raschid, who runs a corner shop, a surrogate father to Gemma, though surprisingly accepting of her pregnancy. Raschid is furious about his shop being trashed, but remarkably is compensated from Roly's severance pay.
The striking thing about this production, and the play itself, is its authenticity. In an interview printed in the programme, Hooper tells us that he wants his plays to be rooted in human experience. 'I'm not hugely interested in creating a piece that is overtly political. I'm much more interested in characters'. Hooper's characterisation cuts through stereotype and simplification to present British soldiers, Afghans and a young woman in an often surprising but always convincing light.
From the moment of entry, the Crucible Studio is transformed by dangling camouflage material into a military bunker with concrete walls which also represent the balcony of a Brixton flat. Large, flat screens provide photographic images, times and dates of local and military settings (reminiscent of Oh! What a Lovely War) and also double as computer screens for Skype communication.
This is a discrete and understated production (directed by Richard Wilson) which pays great attention to detail and respects the audience's ability to draw its own conclusions from visual as well as spoken information. In the middle of the play, Ken kits himself up in full combat gear, including flak jacket, communication device, military helmet and automatic weapon. Now, he is ready for war. Interestingly, the only shot fired in anger occurs (Greek-style) off stage, and consequently gains universal significance, representing in one act of violence all the mayhem suggested by the sound effects.
There are totally convincing performances from the whole cast. Chris Leask as Ken and Chris Reilly as the sergeant are believable soldiers under fire; Charlotte Beaumont does justice to the emotionally complex role of Gemma, who is much more than the girl they left behind. Farshid Rokey, who is an Afghan (recently seen in The Kite Runner at Nottingham Playhouse) brings complete credibility to the role of Babur/Hakim; as does Nabil Elouahabi as the Afghan shopkeeper, a portrait of humanity, generosity and intelligence which brings out all that is best in a generation of hard working immigrants.
At the heart of this remarkable production lies a coup de theatre which it would be unfair to reveal. Suffice to say that Jordan Bright, in his first professional production, gives an outstanding and unforgettable performance that, more than anything, confronts the audience with the grim reality of war.
Not to be missed.
Reviewer: Velda Harris