Love Chiild
Daniel Jenkins and Robert Stanton
New World Stages, New York
(2009)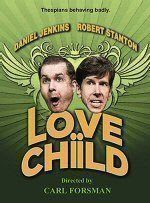 There is little doubt that in the eyes of Daniel Jenkins and Robert Stanton, the pair who wrote the script and play every part, this show lives up to its name, give or take that rogue second "i".
They have poured their souls and two lifetimes of acting into the project, which has the same shtick as Stones in his Pockets but a script that cannot compete with Marie Jones.
For 90 minutes, the two actors play dozens of parts while relating the story of a stage-frightened actor named Joel, his family and friends.
To British eyes, the design by Neil Patel seems incredibly elaborate, when Stones merely used a space. However, this aspect does give the spectator some of the best jokes on show, in spoof film posters with witty names.
The two actors are energetic and fly between characters at a remarkable pace. Their characterisation is good but, even so, by the end one can be forgiven for feeling shell-shocked and at least a little confused.
The story is silly, as the nervous actor has to deal with a series of mad people set to prevent his career from taking off. These include agents and mothers, actors on drugs and in search of talent, and his own shortcomings.
Potentially this could all be hilarious but though there are some very funny moments and a great running gag using a slippery stage, for the most part, the effort is not rewarded.
One has to admire the commitment of this pair and hope that Love Chiild helps them to exorcise some stage ghosts but to many viewers, the script is likely to have the feel of a very elongated sitcom.
Reviewer: Philip Fisher