Love Child
Joanna Murray Smith
Finborough Theatre
(2007)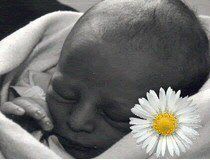 Australian playwright Joanna Murray Smith is best known for Honour, a play that bombed in the English sense at the National and then in the American one when Dame Diana Rigg led the cast in the West End.
That was a play about claustrophobic relationships and this small-scale two-hander from the early 1990s covers similar ground.
Lasting a little over an hour, it asks questions about gender politics and nature versus nurture through the eyes of two women of different generations.
Their connection is both intimate and distant as sleek, sophisticated Anna is the "birth parent" or natural mother of the seemingly shallow but glamorous Billie.
The numbers don't quite add up but Billie, who is now 25, has spent nine years tracking down and then contacting the woman who gave birth to her as a 17-year-old and then immediately gave her up for adoption.
The similarities between the women seem striking but then so are the differences. Billie expects to be recognised instantly as a soap star who plays a suburban nymphomaniac supermodel but that cuts no ice with a woman who measures her life in designer names but is above the TV equivalent.
This is the moment to compliment designer Alex Marker who, yet again, has worked wonders on a minimal Finborough budget by creating a really stylish living room that perfectly fits the bill.
Within it, the women circle around each other, at first like curious puppies but soon enough, as Billie begins to use an accusatory tone, more like prize-fighters.
They discuss maternal need, at first denied by Anna but painfully revealed just before a clever if cruel twist in the tail that makes viewers evaluate each of the women afresh. They also offer a nice contrast in outlook with Anna representing the female attitudes of the flower-child and Billie those of the supermodel generation.
Under Nicolette Kay's sure direction, Kristin Milward and particularly Charlotte Lucas give high quality performances in a play that is sometimes schematic but nevertheless believable. Both are at times moving and always highly sensitive to their own character's feelings, even in the melodramatic final scene of a play that is well worth a visit.
Reviewer: Philip Fisher