Love, Love, Love
Mike Bartlett
Paines Plough and Drum Theatre, Plymouth
Salisbury Playhouse and touring
(2011)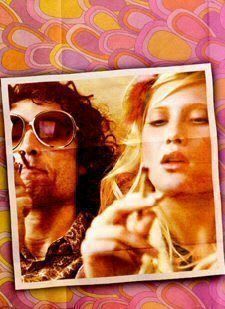 Something ironic about the juxtaposition of two plays in the Salisbury Playhouse season - Somerset Maugham's 1920s commentary The Constant Wife followed immediately by Mike Bartlett's into the 21st century piece Love, Love, Love - which leaves us with no reason to sympathise greatly with any of the protagonists in this stinging account of parents and children.
"Buy me a house!" demands Rose (an excellent performance by Rosie Wyatt), her dream of musical virtuosity in tatters and a life of ageing spinsterhood threatening.
There is more (evidently she still hasn't learned to drive) but that is for other audiences to enjoy, or not, according to your taste.
Neither Bartlett's language, nor his furniture, is in the Maugham class - but then style is not what it was in the early 20th century- and this includes playwriting.
Settings by Lucy Osborne are especially important, if not vital, to this piece as they say much about the degeneration of the family. Direction by James Grieve is taut but then Bartlett's book leaves so little to chance that one is reminded of a prompt copy by Berthold Brecht's team.
Bartlett, I must acknowledge, is an award-winning writer who was in residence at The Royal Court three years ago and has also written several plays for radio. All the same, I would not forecast that this work will be in the popular repertoire eighty years or so from now, although who knows?
Love, Love, Love opens in 1967 when Kenneth, a strong performance by Ben Addis, is a scruffy Oxford student chilling out in holiday idleness at his brother Henry's (Simon Darwen) flat in North London. While Henry is despatched for fish and chips, Kenneth seduces his new girl friend and the family of the swinging sixties is beginning its sad business.
Act two opens some 20 years later in the baby boomers' terraced house on the outskirts of Reading. Jamie is 14 and birthday girl Rose a teenage music student in school uniform. Kenneth is a smart businessman, Sandra, thoughtfully portrayed by Lisa Jackson, a still attractive mother of two.
Communication in the family is clearly failing but they are sustained by liberal indulgence in wine and cigarettes. Otherwise there is little evidence of a family unit and none at all of communication, let alone interest in Rose's musical talent.
Act three finds the remnants of a family in a large country house. Neither Jamie nor Rose are the same children and Sandra, when she appears, is a well-dressed former wife of 64. Whatever family there was is now in tatters.
Perhaps we are meant to feel sympathy for Rose in particular, as well as with sad Jamie. I simply felt sorry for them all.
The production can be seen at Watford Palace (16-19 March), Studio Leicester Curve (22-26 March), Live Theatre Newcastle (29-30 March), Stephen Joseph Theatre Scarborough (1-2 April), West Yorkshire Playhouse (5-9 April), New Wolsey Ipswich (19-21 April), Nuffield Southampton (27-30 April), Liverpool Playhouse, 5-7 May and The Citizens Glasgow (11-14 May).
Ray Brown reviewed this production in Leeds
Reviewer: Kevin Catchpole