Love and Money
Dennis Kelly
Young Vic Maria Theatre
(2006)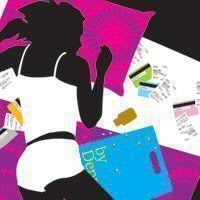 Dennis Kelly doesn't believe in making life simple for the paying customer. That has been part of the attraction of his contemporary works such as After the End and Osama the Hero, which look at life today from the strangest perspectives.
Love and Money starts out as a modern tale of love between David (John Kirk) and a Frenchwoman that he has picked up while doing his selling job. The opening scene is reminiscent of Patrick Marber's Closer with e-mail exchanges becoming increasingly passionate until they suddenly take a more sinister turn.
Despite the title, this is no simple love story. From these promising beginnings, Kelly's mosaic avoids the linear, with plot and time moving almost randomly but as a rule backwards. That means that it is necessary to concentrate in order to understand what is happening and how the characters relate to each other.
It also allows for a sense of achievement by the end, rather like the pleasure in completing the latest Sudoku but at least with a little more point.
To get to the nub, this is the story of the relationship between David and his wife, Kellie Bright's Jess. It travels from the time of their earliest meetings through beyond the grave, but largely in reverse.
We see David struggling to come to terms with Jess's mental problems, which include some kind of shopping or spending addiction that eventually forces him to give up his job as a teacher and beg his ex, played by the dryly humorous Claudie Blakley, to get him a job in sales. There is even a tangential suggestion in one of the play's funniest scenes that he became a rather aged rent boy to make ends meet.
Having heard his side of the story, we begin to focus on Jess and see both how happy and brittle she can be. It also becomes apparent that David's possessiveness did not lend itself to the achievement of a long and happy marriage.
Love and Money builds up into a rather stark picture of Yuppie life today. Its overriding force seems to be neither love nor money but anger, expressed even more forcefully by Jess's parents than the young, once happy couple themselves.
Under actor-turned-director Matthew Dunster, in addition to the two leads, Paul Moriarty shines in a couple of cameos, first as Jess's father and then playing a sleazy pimp who like to think of himself as an agent to the stars.
Some of the meaning of Love and Money may take more than one viewing or reading to come through. However, there is enough to wrestle with at first sight to provoke thought about the rat race and its victims and to make the play well worth a try.
As a bonus, this is an opportunity to see the Young Vic's gleaming new Maria studio for the first time since the multi-million pound makeover. It looks great, especially with Anna Fleischle's ultra modern set, in which each bright panel serves a purpose, most amusingly when two reveal an aquarium packed with everything but fish.
Reviewer: Philip Fisher