Love Song
John Kolvenbach
New Ambassadors
(2006)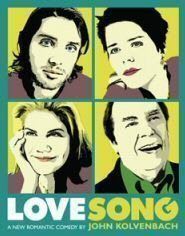 The producers have certainly pushed the boat out when selecting the four actors to star in this 90-minute play about love and madness.
It is hard to know where to start. The smallest part, that of Molly, is played by Neve Campbell who made her name in the Scream movies and her London debut in the ill-fated Resurrection Blues at the Old Vic. Her lover, Beane is the lank-haired, bearded Irish actor Cillian Murphy, last seen on screen in Ken Loach's The Wind that Shakes the Barley but still fondly remembered for creating the part of Runt in Disco Pigs on stage and screen.
That would be enough for most but Beane's sister and brother-in-law are also well-known to British film and TV lovers. Jo is Kristen Johnson of Third Rock from the Sun and ER fame, while Michael McKean playing her husband Harry was a creator and star of Spinal Tap. All four have all done much more too.
With this kind of starry casting, the play is almost an irrelevance. It is certainly odd, with overtones of Sam Shepard and Neil Labute. However, its portrayal of madness and the look inevitably bring to mind The Pillowman by Martin McDonagh, which had the same director John Crowley and designer Scott Pask. The eerie impression is enhanced by the clever, shadowy lighting of Howard Harrison. There is also a great rock soundtrack.
Beane is the central figure, an outsider living in an apartment in which the ceiling lowers claustrophobically and nobody ever visits. Even his sister is forced to admit that this tramp-like misanthropist has probably been mad throughout his thirty or so years of life.
She is not all that relaxed herself, struggling to come to terms with a marriage that is a fast losing its appeal and a life that lacks excitement. Playing straight man to this wacky pair, Harry is the one who is obliged to humour them both, which isn't always easy when you can't even get through the first question in a Cosmo quiz without becoming a screaming wreck.
This bleak and oblique view of society today has many comic moments but takes a very different turn when geeky Beane comes home and finds Molly. She is a svelte, sexy burglar who has not only stolen his belongings, all of which fit into a paper bag, but his clothes as well.
Suddenly, Beane falls madly in love with the short-haired boyish beauty and spews forth torrents of sometimes poetic words, almost as if he had just been blessed with the gift of speech. Molly may talk of violence but her love is just as strong and she seems equally glad to leave loneliness behind.
Strangely, but rather sweetly, their love rubs off on the older couple who, in the play's funniest scene, play hooky from work to have some good old-fashioned sex and ingest a few invisible intoxicants.
For people like Beane, true love is never likely to run smoothly. It takes him only a moment longer than the sane people to realise that his love does not exist but, touched by suicidal devastation, he manages to rekindle the flame of passion by inviting her back into his life with every hope that the pair will live/not live happily ever after.
The play is about as weird as this summary makes it sound but at times is both funny and thought provoking. It also draws a really fine performance from Cillian Murphy and good support from his colleagues.
This is a cerebral, stream-of-consciousness piece they could leave some baffled and others delighted. Quite what mainstream audiences who know these actors from their screen stardom will make of it is anyone's guess.
Reviewer: Philip Fisher