The Lower Depths
Maxim Gorky, in a new version by Phil Willmott
The Steam Industry
Finborough Theatre
(2007)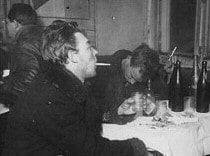 One of the pleasures of a trip to the Finborough, is the chance to see revivals of works that are unknown but deserve to be seen. Despite its humble pretensions, this pub theatre often produces work of high quality with designs to die for.
Nicky Bunch has created a sensational cell set for this piece about the seamy side of life. You can smell the dirt emanating from the doss house in provincial Russia occupied by a dozen down and outs, each with a story to tell of the good times that they have experienced and should still be enjoying but for a spot of bad luck.
The Lower Depths is set in Russia during 1902 and has the feel of a work by Gorky's Irish contemporary, George Bernard Shaw who wrote similarly politically concerned, humanitarian pieces about people rather like these.
The primary plotline features The Landlady, played by Olivia Macdonald, a hard woman who has had enough of her violent, Fagin-like husband. She tries to persuade her former lover, The Thief (Charlie Watts), to murder him, with the enticement of the hand of her poor, regularly-beaten sister The Doss House Skivvy (Louise Shuttleworth). In fact, though the murder happens, by the play's close a far less likely marriage has been contracted.
The catalyst for much of the story-telling and philosophising, though, is The Old Traveller. The impressively laid-back Richard Gofton plays this charmingly wise veteran. He is a saintly man who sees the good in everyone and during his brief sojourn, allows most of the deadbeat residents to regain a little of their long lost dignity.
Those dozen residents of the stinking hole come from every walk of life - or believe that they do. They include a Baron, an Actor, a Prostitute and a Policeman. Their suffering is exacerbated by the knowledge of what they have lost, often courtesy of the joys and perils of a lengthy love affair with the vodka bottle.
As with Shaw (and Warhol) each gets a few minutes in the spotlight to tell their story and explain why they are there, as well as to dream of a better future that is never likely to come about.
This revival sees the return to the Finborough of the ever-interesting Phil Wilmott, whose contemporary translation uses earthy language that might offend but is probably realistic.
The Lower Depths offers a couple of hours of drama that takes its audience into the lives of those whom they might normally turn away from if they saw them in the street. It doesn't always have the feel of a coherent play, having been drawn from three different sources, but scores highly for its fly-on-the wall insights and humour seen in the face of terrible adversity.
Reviewer: Philip Fisher