Loyalty
Sarah Helm
Hampstead Theatre
(2011)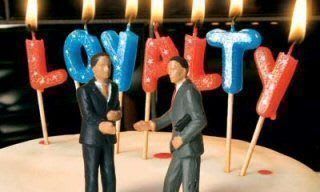 Loyalty is the theatrical equivalent of reality TV. The 2½ hour long comedy docudrama presents a fly on the wall view of life in Tony Blair's Downing Street when the chips were really down.
The play may have odd domestic moments but is ultimately a revisiting of the controversy relating to Britain's entry into the war against Iraq or, more polemically, Saddam Hussein.
It then moves on to the painful post-mortem as Blair and his colleagues desperately tried to justify a decision based on apparently non-existent weapons of mass destruction and information provided by an unknown German using the pseudonym of Daisy and, it is suggested, invented by George W. Bush.
This play would almost certainly not exist had its tyro playwright, journalist Sarah Helm, not been the partner of Blair's chief of staff, Jonathan Powell. Not only is this good in marketing terms, but clearly the lady was privy to information that her colleagues in other newspapers could only obtain by hacking telephones.
Most of the documentary-style reportage - there is little action - takes place in the bedroom and kitchen of the couple's Stockwell home. In fact, it is not their home since the thinly-fictionalised occupants are bleach-blonde Independent journalist Laura and handsome political spin doctor Nick, respectively played by Maxine Peake and Lloyd Owen.
Nick is on call 24 hours a day, providing support to the PM, frequently on a scrambled hotline that is theoretically secret but consistently invaded by Laura's eager ears.
The investigative journalist clearly knows no ethical bounds, since she equally happily reads through top-secret documents. To compound the problem, their Polish au pair Marisia seems to be privy to more secrets than most members of the Cabinet.
While Sarah Helm is clearly a good journalist and competent writer, her skills may be better suited to TV drama than the stage. Effectively, she has sexed up her own memoirs to ensure that Laura comes across as something of a heroine, involved in all that was good about her husband's work but severely criticising things with which she disagreed.
If we are to believe Loyalty, the only reason that anyone thought of Margaret Beckett as Foreign Secretary was because the journalist fed her husband who in turn fed his boss.
Laura, whose accent veers between her model's native Yorkshire and adopted right-on RP, not only narrates but takes an increasingly strong hold over not only her husband but the Prime Minister, eventually interrogating the retired heads of British and American intelligence far more piercingly than our esteemed former Prime Minister.
Nick, played extremely convincingly by Owen, is an efficient functionary who closes his eyes to ethical problems as all people in positions of this type must.
Tony Blair is portrayed with remarkable facility by Patrick Baladi, an impressionist capable of getting a laugh with a single gesture or word, and comes across as a rather dim bad guy.
It is unlikely that newspaper readers or radio listeners will learn a great deal more than they knew already about this topic. Therefore, the attraction of Loyalty must lie in the belief that you can get closer than ever to the people involved in a conspiracy that at one point looked like it might bring down a government.
Playing until 13 August
Reviewer: Philip Fisher