Lucky Seven
Alexis Zegerman
Hampstead Theatre
(2008)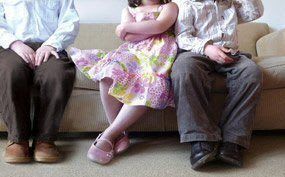 Lucky Seven might start with echoes of Waiting for Godot and Betrayal but soon enough it loses such pretensions and settles down to become something of an elongated sitcom.
For a little over two hours, we follow almost comically stereotypical representatives of three classes (didn't The Two Ronnies do the same?) across the span of 42 years.
The framework that actress turned writer Alexis Zegerman has used is potentially very clever. The TV series Seven Up started in 1963 and continues to this day. The shtick was that the trio of seven-year-old girls that it observed so long ago have reappeared on the TV screen every seven years thereafter.
This gives viewers a voyeuristic snapshot of lives developing in a reality TV format that was developed decades before the medium's heyday with Big Brother and I'm a Celebrity .
Realising that an element of sexual tension was necessary to drive the play, Miss Zegerman has instead taken two men and a woman as her subjects. While following them chronologically, we constantly go backwards and forwards in time, primarily focusing on the present day at the age of 49 and punk period 21.
In perhaps the funniest scenes of the play, we also get back briefly to first 14 and then seven, just to prove that the little darlings had all of their adult traits even in their school uniforms. This point is slightly devalued when, for no discernible reason, they all pretty much swap characters in a manic episode towards the end.
Each member of the group is rather too close to caricature for comfort. Alan, played by David Kennedy, is a Cockney barrow boy made good. By 21, he is already on the way to becoming a knicker baron and throughout the period under observation, enjoys the good life until, inexplicably, everything goes horribly wrong, seemingly more for dramatic effect than any other reason.
Johnny Weir's Tom is an anguished intellectual who, after Cambridge, becomes an archivist and wannabe Hollywood screenwriter. We spend 35 years watching him tearing his hair out, apparently on the brink of repeating the breakdown he suffered at university. He too has a Damascene transformation, suddenly becoming a healthy, happy writer with a gorgeous wife half his age.
Susannah Harker makes up the team in the role of posh Catherine, a desirable blonde inevitably lusted after by the boys/men even in tragic maturity.
There is a fourth, unseen member of this team, David the show's producer. He it was that brought them together in the mid-1960s, obviously at a ridiculously young age, as he is still involved in the show right to the bitter end over four decades on.
This rather sinister character proves to be a catalyst and an irritant in equal measures and also gives the play some social depth by allowing the characters to focus upon the "social pornography", or, in more common parlance, exploitation, of reality TV.
The two male actors have better parts and do more with them under the directorship of Anthony Clark, while Susannah Harker is less well served playing the one-dimensional Catherine.
Lucky Seven is a sitcom with a few very funny jokes and far too many hackneyed old ones. It tries too hard to amuse when it might have been improved by looking more deeply into its characters and the impact of societal changes on their lives, making them less representative of type and more human.
Playing until 22 November
Reviewer: Philip Fisher