Lucy McCormick: Triple Threat
Lucy McCormick
Soho Theatre Downstairs
–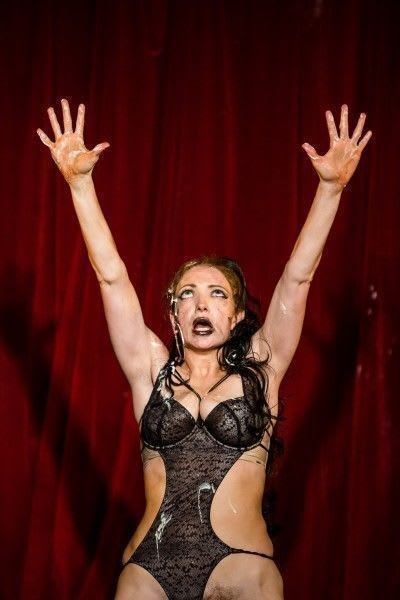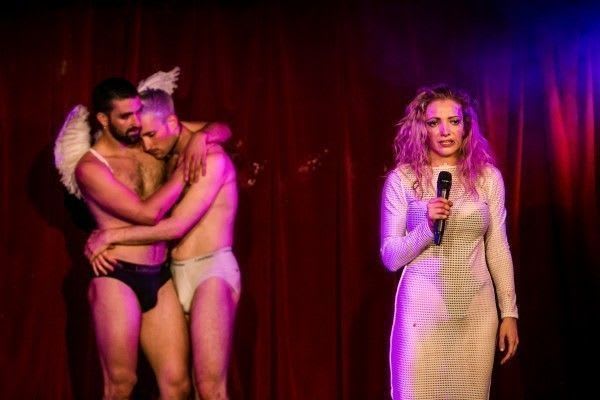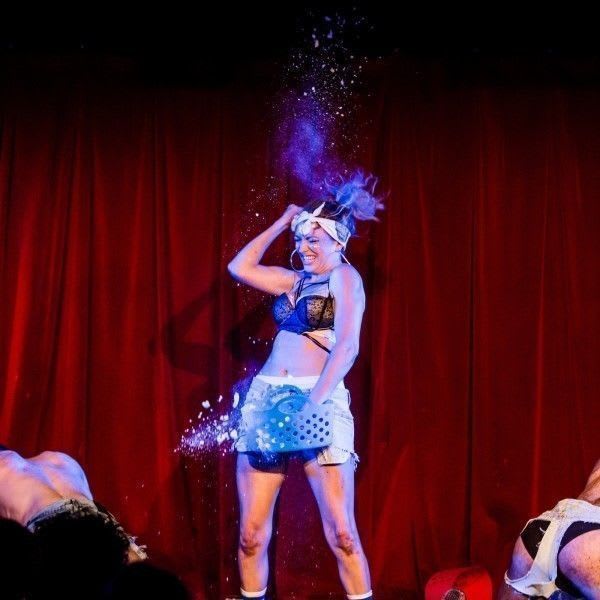 Since the Middle Ages or before, Easter has always been a time to present dramatic versions of events in the New Testament.
This completely uncharacterisable 70-minute performance by Lucy McCormick and her friends Ted and Sam, under the direction of Ursula Martinez, follows in that long tradition.
Having said that, it does subvert the original story to the extent that if ever its star were to welcome a visit from the Pope or the Archbishop of Canterbury (although that seems unlikely), the pair would almost certainly accuse her of blasphemy even if they had walked out long before the mayonnaise and chocolate spread started to flow.
In any event, The Gospel According to Lucy or, perhaps more accurately Lucy's Passion is a truly remarkable piece of theatre, though it will offend and is unlikely to appeal to all.
However, viewers will know within the first minute whether it is for them or not. By that stage, they will have discovered that Lucy McCormick is planning to play a series of Marys as well as the central figure during her brief re-telling of his story from Immaculate Conception to Resurrection.
They will also have watched her dumb efforts to determine that the purple "microphone" with which she is trying to communicate across the fourth wall in Soho's Cabaret Bar Downstairs is actually a sex toy.
From that point onwards, Miss McCormick and her under-dressed, camp supporters flit around the holy story, depicting the events in a fashion that can best be described as explicitly erotic cabaret.
The title gets it right, since the diminutive lady with a northern accent can clearly act capably, she is sometimes funny although with an unfortunate habit of labouring what started out as a good moment, while her singing is more than serviceable and dance moves of the highest quality.
However, any headline about this show would have to concentrate on the sex. At various points, a series of acts is simulated with the kind of reality rarely, if ever, seen on stage outside a sex club.
From the vibrating opening onwards, the raunch never leaves the show. It enhances the dances and leaves many voyeuristic audience members craning their necks to get a view of coupling on the floor in the centre of the aisle.
The peaks though are achieved first, when doubting Thomas is forced to verify the stigmata left by the nails of the cross, searching in some most extraordinary places to try and discover them, and when the Resurrection turns into a crowd surf long after the star has lost her far from fashionable Y-fronts.
While Lucy McCormick: Triple Threat is likely to be an acquired taste, it is genuinely novel, has proved popular in Edinburgh and London already and there is no doubt that the Soho audience on Maundy Thursday lapped up every minute of it.
Reviewer: Philip Fisher