Lucy Prebble Plays 1
Lucy Prebble
Methuen Drama
Released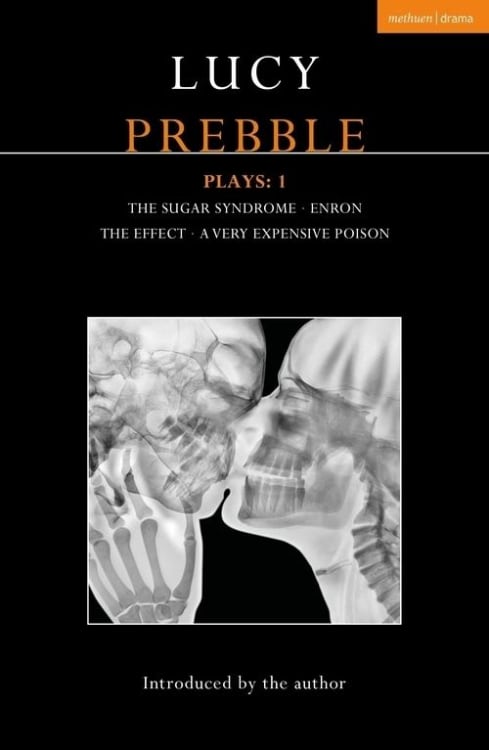 The Sugar Syndrome
First produced at the Royal Court in 2003, this short, sharp drama remains painfully topical.
It follows the troubled adventures of Dani, a 17-year-old with a serious eating disorder. After exiting rehab, the youngster is struggling at a posh college while helping her mother come to terms with her perennially absent father's imputed affair, not to mention a missing cat.
Dani's escape comes via Internet chat rooms, where she masquerades as other personae, building friendships with two older men. Lewis is merely inadequate and searching for love or possibly just a shag. Tim has more troubling issues, after spending time in prison for assault, brought on by his unconquerable nature as a paedophile.
By addressing complicated issues in an apparently light but deeply telling manner, Lucy Prebble shone a light on a difficult subject while announcing herself as a highly talented playwright.
Enron
Enron, which opened at Chichester in 2009 before heading for the Royal Court and the West End then briefly, Broadway, was undoubtedly one of the best plays of its era. It benefited from the outstanding vision of director Rupert Goold, who injected much comedy and razzmatazz into a strong script.
Part of Lucy Prebble's skill lies in making complex concepts intelligible. That is certainly the case in a play that looks at the financial world and deconstructs it for those without business backgrounds.
The eponymous power company was one of the world's great success stories, making vast amounts of money and seemingly unstoppable. However, it appointed awkward genius Jeffrey Skilling as a new CEO in the mid-1990s on the back of promises that he could increase revenues almost exponentially by trading in derivatives rather than actual power.
Such a principle sounds wonderful and, provided that the market meets expectations, nothing can go wrong, especially when you add in a team of raptors and some extremely creative accounting to shelter any dodgy dealing. Instead, his plan eventually led to "the largest corporate bankruptcy in the history of the world". In fact, it went far further and almost took several countries down as well.
This racy, vibrant play is about what happens when things do go wrong, featuring memorable characters and a fascinating portrait of a company in freefall.
The Effect
With this play, which premièred at the National, Lucy Prebble returned to a much smaller canvas.
The piece is a kind of experiment within an experiment. It follows a closed medical trial carried out by the rather trepidatious Dr James under the guidance of her colleague Toby.
Their interactions rather mirror those of a representative pair of victims, Connie and Tristan. One is on the medication, while the other has a placebo but neither knows their own situation, while their feelings become complicated and intricate.
The fun is to decide whether this is the result of genuine human impulse or the artificial stimulants that are being tested.
A Very Expensive Poison
The most recent play in the collection was produced at the Old Vic in the summer of 2019 and, like Enron, is based on a high-profile news story.
This means that before they enter the theatre or open the script, most educated punters would be aware that the central figure, Alexander Litvinenko, was murdered in 2006, allegedly by the Russian FSB or secret service.
Once again, readers lose the benefit of John Crowley's imaginative direction but can still appreciate Lucy Prebble's detailed research and the wonderful presentational clarity of so much complex material. The experience is enhanced by an adventurous structure which goes beyond naturalism with direct address through the fourth wall, action in the auditorium and even ironic stage directions.
Readers will also will have more time to digest a terrifying tale. It starts while Sasha Litvinenko was working as a policeman for the FSB. Having uncovered corruption, he did the honourable thing. That initially seemed to do the trick, as his boss was denounced and fired.
However, when that post was taken on by a new hardman named Vladimir Putin, matters went from bad to worse until after bravely whistleblowing, our man was beaten, imprisoned and eventually exiled.
Even Britain wasn't safe as his poisoning proved. The remainder of a gripping play tracks back through history and forward in an investigation into the murder.
A Very Expensive Poison is a powerful, immaculately balanced play about a crime that prefigured several others including, it has been suggested, another in the last few weeks involving Alexei Navalny.
Reviewer: Philip Fisher