Luise Miller
Friedrich von Schiller, in a new version by Mike Poulton
Donmar Warehouse
(2011)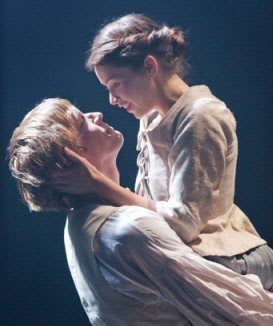 Michael Grandage has seemingly embarked on a solo mission to wrest Friedrich von Schiller's oeuvre back from the world of opera to the stage.
Following resounding successes with Don Carlos (also in collaboration with writer Mike Poulton) and Mary Stuart, his latest mission is Luise Miller, now only really known in the Verdi version.
It has to be said that while Schiller's answer to Romeo and Juliet provides a delightful evening, it does have melodramatic tendencies.
As he moves towards the end of a memorable era as Artistic Director at the Donmar, Grandage has surrounded himself with a marvellous cast and creative team, which ensures yet another hit.
The look of this production is that of an old master, thanks to Peter McKintosh's period costumes and black-painted set plus some dry ice and is completed by sensitive lighting designed by Paule Constable.
It is hard to find enough space to praise this team of actors. All of the major players are given opportunities to shine portraying a series of characters who are almost all either inherently filled with goodness or damned by evil hearts.
In the good camp come the God-fearing Miller family. Dad and Mum, Paul Higgins and Finty Williams are respectively a saintly fiddler and a sweet-natured blabbermouth.
It is the family curse that their angelic, 16-year-old daughter is smitten with the Lord Chancellor's son and his that the love is requited. Felicity Jones somehow saves unadulterated virtue from becoming boring, which is a feat in itself, while Max Bennett plays the inconstant Ferdinand as a dumb blond soldier who swallows up baited hooks like a trout with a death wish.
In 18th Century Prussia, the idea of a ruler's son belying his class, wealth and upbringing to marry a commoner is laughable. Once the story is leaked by a man with his own eye on the young beauty, all hell breaks loose.
The fine Ben Daniels' Chancellor is a schemer with a black heart, who would not hesitate to condemn his son, if there was a political advantage to be gained. With his hatchet man, John Light playing the aptly-named Wurm, and the camp David Dawson as von Kalb, they hatch a plot to destroy the lady's reputation.
Also instrumental is an English tart (or to give her the posh title, courtesan) with a heart of gold, movingly portrayed by Alex Kingston making a rare but very welcome stage appearance.
The Prince's whore, Lady Milford, genuinely loves the young man and is gifted his hand, in an effort to tie a number of loose ends sexually, politically and for the plot.
This all boils up to a suitably tragic ending at the end of a truly gripping 2½ hours.
Reviewer: Philip Fisher