Lulu
Frank Wedekind, adapted by Anna Ledwich
Co-production with Headlong Theatre
Gate, Notting Hill
(2010)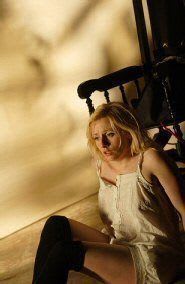 In this co-production between the Gate and Headlong, Anna Ledwich recreates Wedekind's classic tale of a childish seductress for the In-Yer-Face generation.
That might seem a reasonable idea, given the impact that this text must have had when it was first written and inevitably banned for content that even today has the ability to leave an audience diminished after the interval.
The two original plays Earth Spirit and Pandora's Box, written either side of the start of the Twentieth Century, have certainly inspired many creative artists from Pabst on film to Berg in the opera house. Frequently, they have felt few qualms about putting their own interpretation on to a heroine who is not so much an Everyman or -woman as an Everyslut.
Miss Ledwich, who both adapts and directs, has her own ideas of the tale's message and uses shock tactics and buckets of stage blood to enliven the action, not always to good effect.
The waif-like Sinead Matthews gives a brave rendition of the leading part, thrown constantly around for over two gruelling hours by a series of Lulu's lovers.
Lulu is a classic male fantasy, a child-woman who will do anything to please - but only up to a point. Her third husband, Schoning, played by Sean Campion, gets it right when he says, "I don't know where the angel in you stops and the devil takes over".
Before his fateful marriage, we have already witnessed an old lech and a virginal artist, Paul Copley and Michael Colgan, experience the agony and the ecstasy of marriage to a bride so malleable that she goes by a different name with each man.
The feigned innocence never lasts long and, it is suggested, the real thing disappeared when the protagonist was a young child, abused by a father (Copley again) not really worse than any other man.
As Helen Goddard's deliberately tawdry set expands like a tardis, men and even a woman come and go as Lulu herself slowly sinks from wealth to prostitution before an inevitable climax.
The staging lacks focus, not helped by intermittent updating that only occasionally makes itself visible (or audible) in what otherwise could easily have been fin de siècle realism. This might be because our auteur was trying too hard to make her mark, adding Marilyn Monroe and Jesus and Mary Chain riffs to the gore. She also seems unsure whether to take Wedekind's tale absolutely seriously or poke fun at the excesses.
By the end, although it has its moments, this world premiere is too experimental and fails to improve on the Almeida's more straight-laced version starring Anna Friel during that theatre's enforced sojourn to King's Cross almost a decade ago.
Reviewer: Philip Fisher