The Lunatic Queen
Torben Betts
Riverside Studios
(2005)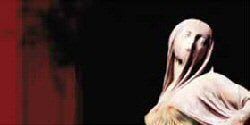 This three-hour extravaganza doesn't seem quite sure of its identity. At times, it is a wordy historical drama set in Spain around 1500 that bears many of the hallmarks of the work of Howard Barker. At others, it is much closer to an Iberian episode of Blackadder.
The design budget was clearly generous. There is a massive, overarching set designed by Michele Ricciarini, characterised by large, cardboard black and white cartoons and an all-seeing eye in which much action takes place.
Ilona and Sandra Trauttmansdorff's lavish costumes seem drawn from a fetishist's dream with lashings of leather. Indeed, those worn by Juana the eponymous heroine start with Catholic Goth and return there via Snow White.
The Lunatic Queen is set in the Court of Ferdinand and Isabella of Spain, played by Pip Donaghy and Siobhan Redmond (particularly good in her death throes) respectively, at the start of the Sixteenth Century. With auto-da-fes and economic problems in the background, they begin to seek a politically advantageous marriage for Lucy Gaskell's young Princess Juana.
They select Stephen Kennedy's handsome young "fairy" Philip, son of the Emperor Maximilian. This tubbily camp (and older than anticipated) prince mysteriously goes straight on meeting his betrothed. The problem is that she is not the only woman that he loves.
In addition to the royal households, The Lunatic Queen has two other major protagonists. They are Black siblings, who have been enslaved to service the family. Leon Lee's Ludo, looking rather like Jimi Hendrix, entrances the ladies and eventually enters into a rather tasteless sado-masochistic relationship with the King, no less.
For her part, his sweetly religious sister Angelina, played by Chipo Chung, is used by Juana to cover her less than virginal state. Inevitably, a pair of babies arrive and are swapped in true Shakespearean fashion. The subterfuge in a darkened bedroom that many may recognise from Measure for Measure is reversed later when wife and mistress wish to change roles.
Eventually using a combination of sex and the moral authority that comes from contemporary society's guilt over slavery, this couple becomes the power behind not one throne but two.
The plot is, in part, informative about Spanish history but eventually, Torben Betts seems happier dispensing with facts to keep things really racy. With lots of graphic sex and coarse, heightened twenty-first century language, not to mention disco music, it is easy to forget where we are and why.
The conclusion is that this is an ambitious attempt that doesn't quite succeed in becoming much more than a messy entertainment that loses its way. Things reach a low point with the appearance of a vacuous man called Christopher Columbus, bearing nothing of the explorer but his name.
Betts would have been better completing his research and writing a serious history, going for a racy costume drama or even trying an over-the-top sex show for habitués of Soho, rather than mixing the lot. He has a great deal of talent but needs to use it rather more judiciously and with greater brevity.
Reviewer: Philip Fisher