Lysistrata
Aristophanes, adapted and translated by Ranjit Bolt
Arcola Theatre
(2005)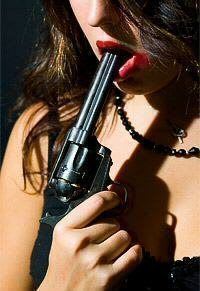 Ranjit Bolt's wildly exciting, updated version of this Greek classic might give the uninitiated the wrong impression. When Aristophanes wrote the play, he almost certainly did not set it in the corner of an underground car park with three, battered cars playing a major part in the action. However, designer Soutra Gilmour, who delights in such settings, knows better.
The theme is absolutely up-to-date and could be seen as addressing the war in Iraq today. Therefore Ranjit Bolt can feel justified in allowing the setting and language to reflect contemporary life.
Lysistrata is the story of a group of women who are so incensed at the needless bloodshed of the war which their husbands are away fighting that they take matters into their own hands and sue for long-term peace in the most novel fashion.
Lysistrata, played by the immaculate Tanya Moodie, holds centre-stage throughout in the sharp suit of a high-powered executive who is always likely to get her way.
Despite their protestations, her three sexy acolytes, well-played by Rosanna Lavelle, Leandra Lawrence and Laura Elphinstone, are willing to sacrifice more than their lives in an effort to save their husbands and their nations.
Their leader's plan uses women's ultimate weapon to prevent the men of Sparta and Athens, led by Jason Morell's magistrate, from returning to war. These feisty women announce to their devastated menfolk that they will not resume conjugal relations, or - to use some of the more subtle language of the play - will go on a sex strike, until the poor blokes have forsaken war forever.
These men are little more than their five-foot long, multi-coloured appendages. It is therefore inevitable, long before the end, that they will succumb to their passion and desperation and, however reluctantly, give in to a stronger force, if a weaker sex.
This version of Lysistrata is written in blank verse that is better spoken by the ladies. The pace is constant throughout the ninety minutes and the humour is often outrageous, as the women tease and torment the men to great comic effect.
The action is broken by intermittent songs featuring various types of music but all sung in a cabaret style that suits the atmosphere well. The best of these is a witty a capella anthem to female solidarity.
This unconventional Christmas show demonstrates the Arcola at its very best and while it is not suitable for children, their parents may well be much happier watching this raucous brand of Greek sex comedy than any number of limp pantomime dames.
A final (satirical rather than political) thought for those who are not as enamoured with the actions of Messrs Blair and Bush as they might be. This may sound like the subject-matter for Justin Butcher confection such as The Madness of George Dubya but perhaps Cherie and Laura could be persuaded to offer a little more resistance to the leaders of the free world, but just until the troops have finally been withdrawn from Iraq!
Reviewer: Philip Fisher