Macbeth
William Shakespeare
Shakespeare's Rose Theatre, York
–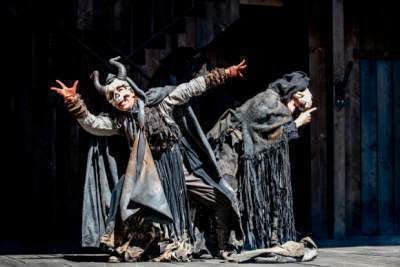 Situated in a car park next to Clifford's Tower—one of York's most imposing historical landmarks—Shakespeare's Rose Theatre will offer audiences the chance to watch four of the Bard's most enduringly popular plays over the next two months. These are Macbeth, A Midsummer Night's Dream, Romeo and Juliet and Richard III.
A labour of love for all involved, the Rose claims to be Europe's first ever pop-up Elizabethan theatre, and it is undoubtedly an impressive performance space. There's a pleasing contrast between the theatre's medieval exterior and the intricate scaffolding we find once we go inside, meaning that the Rose feels both old and new at the same time. The makeshift village of bars and food stalls that surrounds the venue also adds to charm of the experience.
Less impressive, however, is Damian Cruden's production of Macbeth, which never really takes flight. In fairness, "The Scottish Play" is notoriously difficult to stage effectively and only a handful of productions have managed to do it justice over the last few decades.
A production of Macbeth should be steeped in darkness, fear and evil—these are, after all, the key themes of the drama—but Cruden's take on the play is noticeably lacking in these qualities.
Take, for example, the three witches. Rather than portraying them as supernatural agents of mischief, Cruden depicts them as members of the disgruntled underclass, who pose as witches in order to toy with their social superiors. This is an interesting idea in theory, but it robs Macbeth of its supernatural element—one of the play's most compelling features. The motivations of these characters are also never made fully clear.
As Macbeth and his "fiend like queen", Richard Standing and Leandra Ashton certainly look the part. However, they struggle to shoulder the weight of their demanding roles. Standing captures Macbeth's brooding machismo, particularly in the early scenes, but doesn't persuade us of the character's descent into evil. Ashton is enjoyably calculating in the first half, but her creeping madness is less effectively rendered.
There are, however, some solid supporting performances, particularly from Fine Time Fontayne, who doubles as both a dignified Duncan and a coarse Porter. There's also a poignant turn from Paul Hawkyward as Macduff, who makes a ferocious adversary for Macbeth in the play's final act.
Cruden's production has a brisk energy that stops it from becoming dull. I also felt that the violence of the play was handled well. Some productions of Macbeth have been famously undone by their reliance on gore, but this one has just the right amount of fake blood.
The production is handsomely costumed by Sara Perks, who dresses the characters in leather and furs à la Game of Thrones, and it benefits from Chris Madin's subtle musical arrangements.
Overall, this is a solid, watchable production that fails to embrace the dark magic of Shakespeare's most nightmarish play.
Reviewer: James Ballands