Macbeth
William Shakespeare
The National Theatre
The Lowry, Salford
–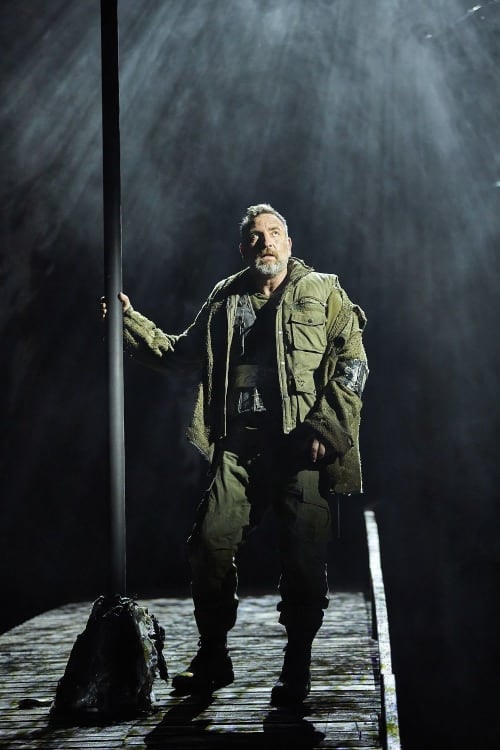 It is sometimes remarked that Macbeth is a play which becomes popular during periods of political and social unrest. If so, then staging Rufus Norris's dystopian production seems perfect timing after the Brexit vote and the election of Donald Trump.
The play is set in a society shattered by ecological disaster. The sun never penetrates the constant gloom and communities have become tribal—struggling in a brutal hand-to-mouth existence and dressed in clothes scavenged from Lord knows where. Macbeth (Michael Nardone) is a relentless warrior who is so inured to violence that, with the encouragement of his wife Lady Macbeth (Kirsty Besterman), he is able to persuade himself to commit regicide even if his ambition pushes his community closer to chaos.
Rae Smith's set is heavily influenced by Apocalypse Now. Weak sunlight filters through a background of shredded plastic sheets that hang over the characters or cluster in tree branches creating a fetid jungle-like environment. A sloping platform allows swift scene changes and the overall effect, with prefab buildings serving as palaces and abandoned railway carriages as banqueting halls, is that of people reduced to a desperate, nomadic existence.
Rufus Norris adds some interesting touches to the play. Macbeth's final speech being delivered while cradling his dead wife is a stunning moment but not all of the flourishes are as successful. Generally, the Porter ( Deka Walmsley) is employed as the only glimmer of humour in a dark play. In this production, the character is much more proactive; his speech is tweaked to become a direct reflection on the murder of Duncan and he serves as a symbol of decency acting to undermine and frustrate the plans of Macbeth.
The humour is shifted to other areas; Fleance, played as a daughter, stumbling around the stage trapped in a guardsman's hut helps to reflect her vulnerability but Macbeth reacting with a comic double-take when tapped on the shoulder seems out of character.
Kirsty Besterman is a surprisingly vulnerable Lady Macbeth, publicly showing steely support for her husband but betraying her misgivings when alone by accepting she is damning herself by invoking the Gods to help in her dark plans. Michael Nardone is, however, a brutal Macbeth: the opening scene, before we even know his name, showing the character mercilessly hunting down and dispatching his prey. It reflects the grim environment in which Macbeth exists but indicates the major limitation of the production.
Macbeth is an ambiguous play; although the title character is driven mad by greed and ambition, he is, at the beginning, a soldier whose loyalty and achievements have been undervalued. Initially, therefore, it is easy for an audience to relate to someone who is, it might be argued, only taking what he deserves. Part of the fun of watching the play is deciding when this sympathy ceases—when we see Macbeth as a monster whose behaviour cannot be justified.
In the current production from The National Theatre, this ambiguity is lacking. The situation shown on stage is so desperate, Macbeth is driven not by his fatal flaws of greed and ambition but by the need to ensure that he, his wife and his tribe survive. There is, therefore, no sense of a noble man being corrupted just someone doing what has to be done.
While this bleak and atmospheric production may indeed reflect our uncertain times, moving away from the more complex motivations of ambition and greed towards simple survival makes Macbeth a less intriguing character and the play not as satisfying as one might hope.
Reviewer: David Cunningham