Macbeth
William Shakespeare
Jamie Lloyd Productions
Trafalgar Studios
–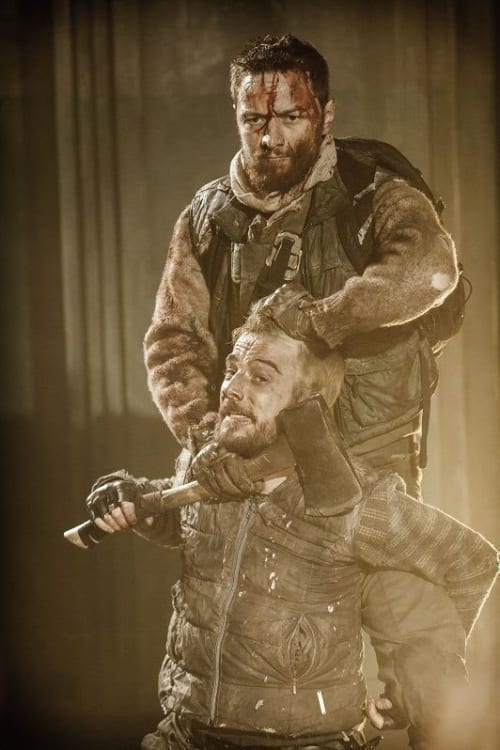 It is all too easy to find oneself falling prey to Shakespeare ennui—not another Macbeth!
So good a job has Jamie Lloyd done on this occasion that there are moments when this feels like a play that one has never previously seen.
From its opening moments, it is clear that Lloyd has pulled out all the stops to create a fresh and highly distinctive Macbeth for the inaugural production by his eponymous production company as part of the Trafalgar Transformed season.
The transformation primarily lies in opening up the stage space with half a dozen rows of seats behind the performers and at one stage, the car park revealed.
The director and his designer, Soutra Gilmour have set the evening in what looks like a Balkan war bunker today. It is though peopled by dour Scots, perhaps post-independence?
An overbearing sense of discomfort and dislocation is heightened by blackouts accompanied by hissing static, in the pacy transitions between scenes.
The location and paramilitary fatigue costumes as well as the atmosphere are grim, hardly lightened by the oceans of blood that make James McAvoy in the title role and Forbes Masson's Banquo reminiscent of new-born babes fresh from the womb.
Their future is laid out by three of the boldest and wyrdest sisters that even this much-performed play has ever seen, adorned with gas or possibly frogmen's masks.
Muscular Macbeth is confused then heartened to learn of his potential elevation and Hugh Ross as a very patrician King Duncan was never likely to prove much of an obstacle to this man's vaulting ambition.
Had there been any doubt, this was soon dispelled by Macbeth's young but determined wife, played with great emotional intensity and passion by Claire Foy.
The pair swiftly wallow in regal blood but thereafter, the intrigues begin to backfire with great dramatic effect and the odd comic moment courtesy of a Glaswegian female Porter.
The scenes of illusion are particularly captivating, with Macbeth stumbling around and helping his audience to visualise a dagger that must surely be there, though we cannot see it. Similarly, he is visibly freaked out by the return of dead Banquo.
Jamie Ballard as poor Macduff also makes a strong impression, distraught enough at the misfortunes of his country, before transforming into bewildered grief when he discovers bad news of his own.
James McAvoy proves to be a memorable Thane and King, very natural in the early scenes, drawing in his audience, before the pressures of guilt (and ghosts) begin to turn him into a mad tyrant who believes in his own divine immortality while murdering even those who helped his elevation. His verse speaking is generally very clear with emotions hitting a moving high with "Tomorrow and tomorrow and tomorrow".
He is also highly effective when his character accurately predicts his own fate, while seemingly possessed by terrifying internal demons.
This fine production lasts for three gripping hours and makes clear the sordid consequences of corruption and hunger for power to the modern generation. It is almost throughout a model of clarity and makes good use of a strong, adaptable and highly committed cast whose energy levels must be epic.
Whether you have never seen Macbeth or know the play like the back of your hand, this exciting production is well worth catching.
Reviewer: Philip Fisher