Macbeth
William Shakespeare
Out of Joint
Arcola
(2004)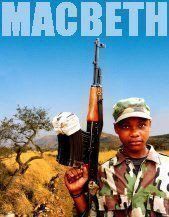 To celebrate Out Of Joint's 10th anniversary, artistic director Max Stafford-Clark has chosen a radical new reading of The Scottish Play. In doing so, he makes full use of the industrial factory or warehouse space that was the Arcola, before it became a theatre. The action takes place in three different spaces on two levels, requiring the audience to stand and promenade, at different times.
Novelist, Giles Foden wrote a book about Idi Amin called The Last King of Scotland. Stafford-Clark has taken this concept into Shakespeare by directing a Macbeth with Amin, all too plausibly, in the title role. As his Lady Em, the director has been influenced by the remarkable story of Emma McCune, an English aid worker who "turned native", marrying a warlord in the Sudan, before her tragically early death.
The play opens with an awful first act downstairs, in which there is much tribal dancing and a lot of noise and several impenetrable African accents. During the opening scene, the weird sisters, one a terrifying witch doctor, incomprehensibly for many, tell Macbeth his future in French. Thereafter, things settle down
Macbeth, played by Danny Sapani, is a barrel-chested general who seemingly loves his King Duncan (Ben Onwukwe), looking suitably regal in army fatigues but with ritual horsehair fly whisk. As the action moves upstairs to the Arcola's normal stage, we are introduced to the star of the night, Monica Dolan playing Lady Macbeth. She gives a bravura performance, converting the anti-heroine into a late 20th century schemer whose mad sleepwalking is so convincing, that it is deeply unsettling and may well give the callow nightmares.
The conversion to Africa means that on occasions, the characterisation is not strong and without a knowledge of the play, it would sometimes be difficult to know who certain people, in particular Ross, are.
The main thrust of the story and, in particular, the slaughter of Lady Macduff and her children and the appearance of Banquo's ghost, who appears from the middle of a dinner table, are particularly strong.
The whole comes to a rousing end, after a scary gun battle leading to Macbeth's death, to the tune of loud echoing, unforgettable drums.
This African Macbeth is to be commended for its originality and also for the community spirit that allows two teams of four local youngsters to make their stage debuts.
As a rewriting of Macbeth, this production may not be a great success. As a contemporary African story of love, ambition and murder with historical resonance, it is spectacular and at its best, very entertaining.
Reviewer: Philip Fisher