Macbeth
William Shakespeare
Shakespeare's Globe
(2010)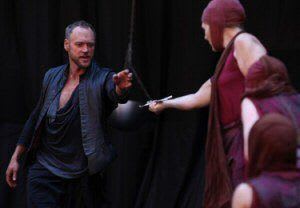 Lucy Bailey has got the Globe's 2010 Kings and Rogues Season off to a really storming start with a play about a character who clearly fits that title perfectly. Her reading of Macbeth gets deeply into the psychology of the leading figures but is at the same time both very dark and extremely sexy.
The year is less than four months old but already Macbeth has inspired three different London productions. Cheek by Jowl presented it in a version that is also strong on psychology but at the cost of spectacle, while at Hampstead, the RSC premiered David Greig's Dunsinane, a cleverly devised sequel that would be a perfect companion piece to Miss Bailey's interpretation of the original.
The opening says it all, as half a dozen writhing, blood-covered bodies dance around amongst them, prefiguring the fate of so many characters in this tragedy.
The play opens with three of the weirdest sisters imaginable, played with glee by Karen Anderson, Simone Kirby and Janet Fullerlove. They set the scene together with musicians who throughout, play dissonant wailing bagpipes and, amongst other instruments didgeridoos, to unsettle us all.
The sisters, who reappear throughout the evening, really capitalise on that discomfort, having great fun with the groundlings who, thanks to Katrina Lindsay's innovative design, are trapped in a collective black cloak through which their heads poke like customers in a barber's shop.
This black cloth is mirrored on stage where everything that can be is of dark material, particularly after the history of Scotland is changed by the death of its king.
It is not only the Weird Sisters who appear to be victims of Scottish inbreeding. Frank Scantori's oversized Porter is another grotesque, this time comically so, while more fittingly, the murderers could also have gained early release into a Care in the Community scheme.
Having said that, there must be a question as to whether the behaviour of these supernumeraries is any stranger than that of some of their more esteemed companions in the Scottish Play.
Laura Rogers makes a particularly fine Lady Macbeth. From the opening scene, filling with pride as she reads of her husband's dual elevations, the noblewoman grabs the attention and does not let it go at any point thereafter, until the character's early demise.
In part, that is because Lucy Bailey has instructed Miss Rogers and Elliot Cowan in the title role to inject their relationship with as much violent sexual passion as they can - and they can. Their onstage trysting is X certificate, adding an extra dimension to the relationship. It also helps us to understand how the pair act supportively as well as irrationally in their decision to speed Macbeth towards the crown that he has been promised, rather than waiting for fate to take its turn.
The actors are extremely good at the psychology of this duo as well. Each of them has to make several transitions and succeeds every time. The lady is clearly keen to see her husband elevated and only too happy to push his claims and embolden him. She is also the braver of the two after the deed but Miss Rogers conveys her internal suffering in the later scenes with equal conviction.
Cowan starts the evening as a swaggering war hero who gives far less thought to his actions than his scheming wife. However, this action man develops too, as he ravishes his lovely wife and then realises that if he wishes to continue their tempestuous relationship, he must kill Duncan.
The actor really comes into his own with the reappearance of his old friend Banquo, by now murdered and a bloody corpse who rises up through the middle of a lavish meal, creating a terror that is palpable.
That is not all, as in the final scenes, bold Macbeth believes himself to be immortal. It is only at the death, literally, when Keith Dunphy's grieving Macduff tearfully reveals his unknown history that this Macbeth enters a gloriously devised fight to what he realises is an inevitable, if brave death.
When Lucy Bailey directed Titus Andronicus, the staff at the Globe became much fitter as a result of their efforts in assisting customers who had fainted at the sight of excesses of stage blood and gore. One hopes that they have continued their weight training, as they are likely to experience similar levels of collapse, judging by the opening night audience.
Reviewer: Philip Fisher