Mack and Mabel
Music & lyrics by Jerry Herman, book by Michael Stewart, revisions by Francine Pascal
A Watermill Theatre production
Palace Theatre, Manchester, and touring
(2006)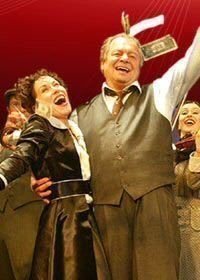 Mack & Mabel is Jerry Herman and Michael Stewart's 1974 musical about the relationship between master of silent screen comedy Mack Sennett and his female star Mabel Normand. It received eight Tony award nominations for its original Broadway production, which ran for just 66 performances, but it did not open on the West End until more than twenty years later. It is rare to get the chance to see a professional production of this show; this production is on a regional tour before opening in London in April.
The whole show is told in flashback, narrated by Mack Sennett himself from a time after everything has gone wrong for him, which makes him a sad, reflective character throughout. Herman has supplied some great songs, some of which have become well-known independently of the show, with lyrics that are often funny and sometimes poignant and moving. However the songs do not always seem to fit particularly well into the script and sometimes just appear out of the blue.
Director John Doyle has assembled a cast of actor musicians for a production in which all performers apart from David Soul as Mack play instruments as well as acting roles. This is an interesting idea, which sometimes works, but a lot of the time the instruments get in the way and prevent the actors from doing much acting. The show therefore comes across more as a concert than a musical, and a lot of the musical numbers seem under-staged.
The character of Mack is on stage for most of the time and has quite a few songs to sing, and David Soul manages to hold the show together and gives the character a laid-back, melancholy quality. Janie Dee is a quite lively, slightly dizzy and likeable Mabel. The rest of the cast is more like a marching band, wandering around with their instruments, but they all carry off their parts as well as they can with the restrictions of their luggage and a rather cramped stage area. Mark Bailey's design uses scaffolding and high walkways with large sliding mesh doors in the centre and a white half-curtain downstage. This works as the multiple locations, including film studios, but the doors make for some awkward upstage entrances behind the cast, and there are some odd moments acted behind the curtain that do not really work.
I wanted to like this production more as I have known and liked the songs for a long time but never seen the show. Unfortunately the show as a whole does not live up to the promise of the songs, but although it is not a great show, it is certainly not terrible. The same could be said of this production, which is entertaining with a strong central performance, but often seems a little hampered by the design and the concept.
"Mack & Mabel" runs until 4 March
Sheila Connor reviewed this production at the Yvonne Arnaud Theatre, Guildford
Reviewer: David Chadderton