Mack and Mabel
Music and Lyrics by Jerry Herman; Book by Michael Stewart with revisions by Francine Pascal
Criterion Theatre
(2006)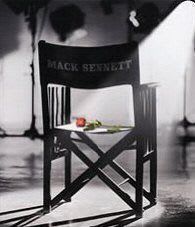 The first and last time London saw this much-loved, rarely staged musical the production attempted a Broadway big budget pageant with neither resources nor cast numbers to fill the stage.
John Doyle's heart-touching revival, which began life last June at the tiny Watermill Theatre in Berkshire, makes a virtue of small-scale necessity, with a cast of nine actor-musicians, plus David Soul and Janie Dee starring in the title roles; no fancy costumes, and a simple mesh and steel-framed gantry to represent a Hollywood studio interior or the taffrail of a transatlantic liner.
When the book and lyrics call for Hundreds of Girls, there they are in their flickering, Keystone glory, 1920s lovelies back-projected on a curtain, while downstage the company stomps with glittering brass instruments and triumphant vocals, a wholly winning end to the first act.
But John Doyle's masterstroke has been to turn Jerry Herman's tuneful overture into an entr'acte medley, reprising the numbers from the first half almost as a 'what-happened-so-far' reminder following the interval, and giving the less tuneful second act a brightly melodic send-off.
This has two other benefits. It gives Doyle's actor-musicians an opportunity to demonstrate their instrumental talents unencumbered by character or situation.
More subtly, and at the very start of the evening, it enables David Soul as the silent movie director Mack Sennett to move from a quietly reflective speech about the Talkies and gently segue into his nostalgic flashback opening number, When Movies Were Movies.
Jerry Herman, who was in the audience for the London press night, also came over from Beverly Hills for the Watermill opening when he praised Soul as a good, gritty actor with a singing voice "not all that polished, which makes everything more real." This apparently backhanded compliment hits the nail on the head.
Soul's big number:
I won't send roses
Or hold the door.
I won't remember
What dress you wore......
is an aching ballad from a man quite simply unable to say "I love you."
Robert Preston as the original Mack, made it his greatest hit with a sonorous rendering that outshone the rest of the score. By contrast, Soul's sotto, slightly off-key opening phrase renders the song even more poignant, a moment of self reflection as much as a tender tribute to Mabel Normand, and that fits seamlessly into a sequence of songs that tell the story.
Janie Dee gives a wonderfully spirited performance as comedienne Mabel, first as a waitress from the deli, then as Sennett's leading lady with a brilliant knack for slapstick, tripping and tumbling with aplomb, before her Hollywood career is finally ruined by ambition, drugs, booze and scandal.
Once or twice a rising finalé calls for a belter, which Dee is not. But her starry pizazz, attractive vocal performance and generous involvement in the ensemble numbers help hold the show together. And one is always looking out for her return whenever she leaves the stage.
It has been unkindly said of Michael Stewart's book, that this is a musical of show-stopping numbers, with no show to stop. But here Broadway play doctor Francine Pascall has done some revision of plot and dialogue, making for a slightly less awkward, more poignant Happy Ending, as promised in the closing song, as Dee gently disappears into the wings while Soul ruefully closes the doors of his Keystone studio.
Among the supporting cast, Matthew Woodyatt catches the eye in slapstick sequences as a heavily padded Fatty Arbuckle, plus a big bellied euphonium to cart around.
The only other performer who gets a chance to dominate the stage is actress/saxophonist Sarah Whittuck in a lively tap routine, one that becomes an all-dancing and all-singing company spot, and for whom an enthusiastic first night audience gave a big cheer at the final walkdown.
The show has a relatively short run, closing at the Criterion on 22nd July. Meanwhile it should offer excellent spring and summer entertainment for visitors to the capital at one of the West End's prettiest theatres, recently upgraded with unusually comfortable seating and excellent facilities.
The BTG reviewed this production in Manchester and Guildford on its pre-West End tour
Visit our sponsor 1st 4 London Theatre to book tickets for Mack and Mabel.
Reviewer: John Thaxter